How to Choose Bridal Shower Invites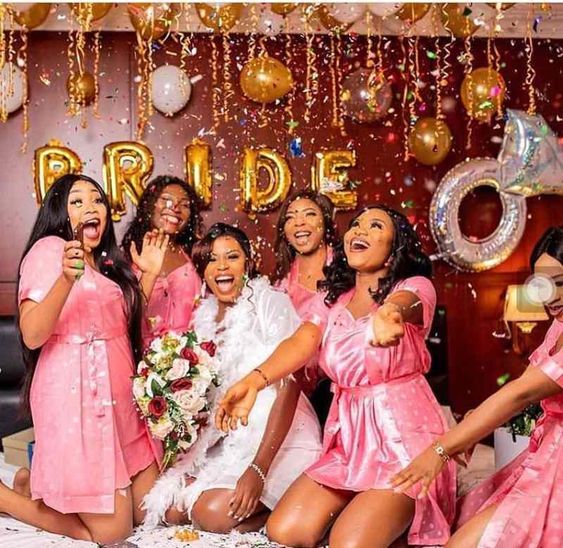 Last Updated on August 28, 2022 by Joshua Isibor
Getting married is one of the happiest times of a person's life, but it is also one of the most stressful periods. Depending on the type of wedding you want and your budget,  it may take any time between 2 months to a year to plan a successful wedding. Apart from the main wedding day, there are other events or pre- wedding gathering that is used to celebrate the couple. One such pre-wedding event is the bridal shower.
Bridal Showers
Bridal showers are pre-wedding get-togethers, where close family and friends come to celebrate or shower the bride/couple with affection, support, gifts, advice, e t.c. It is usually held during the day, it features eating, drinking, and games, and it is a celebration of the bride's upcoming nuptials.
Before now, bridal showers are only held in honor of the bride, hence the name, but currently, we have two types of bridal showers:
1. Traditional Bridal showers:
Traditional bridal showers are held in honor of the bride, and it is usually hosted by the maid of honor, the bride or groom's mother, or any close female relative. This type of bridal shower is for only the females at the wedding party. It also serves as an avenue for all the females to get acquainted with their selves before the wedding.
2. Co-ed showers(Also called a couple of showers or wedding showers):
Co-ed showers are a modern and improved form of a bridal shower. It includes all the aspects of a bridal shower, but as the name implies, it also features the groom and close male guests. Co-ed showers take place more during the late afternoon or evenings.
That said, let us look at the basic requirements for hosting a Bridal shower(whether the Traditional shower or the Co-ed shower):
The first requirement to host a shower is who will host it.
Traditionally, bridal showers are hosted by either the maid of honor, the mother of the bride or groom, a bridesmaid, or a close relative of the bride, but these days, anybody can host a shower for the bride or the couple. They could even hire an event planner if they wish.
Who to invite:
Ideally, the shower guests should be between 15- 50 people. The number of people you wish to invite will depend on your budget, the shower venue, what type of shower is it(bridal or Co-ed), time, e.t.c. Showers are usually for very close friends and family members, and they must involve the wedding party (groomsmen and bridesmaids)
Activities you will do at the shower:
As earlier said, the shower shouldn't be a boring activity, it is a time for everyone close to the bride and groom (depending on the type of shower) to get to know themselves before the wedding, so it should feature:
Food
Drinks (preferably light drinks)
Music
Playing wedding-themed games
Favorite pastime activities of the couple (like yoga, BBQ, pool party, sports, games, entertainment, beach, e.t.c)
Opening of gifts
Party Favors (shouldn't necessarily be anything big)
To host a successful wedding shower, you will need to : 
Have a shower budget
Pick a date
Make a guest list
Choose a location
Set the menu
Pick a theme (you could use the wedding theme or something else, your choice)
Hire a professional shower decorator or choose your decor yourself(include a gift area)
Create the shower playlist(It should be something light)
Pick the games and activities for the shower
Send out invitations.
No matter the type of shower you want, one of the most important parts of planning is the guests, and there is no way you can have a shower without guests, and to inform your guest, you need to send out invitations. Invites are vital, they should reflect who you are as a couple and your style. At this point, I have great news for you, your shower invites can be tailored to fit you to a tee, with just a little input from your end without stress.
How? Simple "Basic invites" Basic invite is a card company, that offers trendy and classic invitation cards, with hundreds of templates to choose from for every major life event. From Birthdays, weddings, showers, graduations, and any event you can think of.
Back to your wedding shower, for whatever type of shower you are planning on, the Basic invite has got you, for showers, they offer:
Some of the amazing features you get with a Basic invite :
♠ Almost Unlimited Colors- Basic Invite is one of the few websites that allows customers almost unlimited color options with instant previews online. Once they select a design, customers can change the color of each element on the card. With over 180 colors to choose from, the invite is sure to be exactly how they want it. This is what sets us apart from almost any other online stationery company.
♠ Custom Samples- Basic Invite is one of the few websites that allows customers to order a printed sample of their invitation before placing their final order. They can see the paper quality and how it will print, and make sure the card is perfect.
♠ Over 40 Different Colors of Envelopes- Basic Invite has over 40 different envelope colors to choose from. With so many options, customers can make their envelope match the invitation. All of the envelopes are peeled and sealed so they can be closed quickly and securely.
♠ Address Capturing Service- Basic Invite offers an address capturing service that allows customers to share a link on Facebook, Twitter, Instagram, or any other social media to request their friend's and family's addresses. The addresses are stored in the customer's account and can be selected during the design process. Basic Invite offers recipient address printing at no cost on all card orders.
♠ Foil- Foil cards are available in gold, silver, and rose gold. Customers can choose flat or raised foil on all of Basic Invite's foil designs.
♠ Budget-friendly: No matter what your budget plan is, the Basic invite has an offer for you.
Amazing Right? To blow your mind, even more, Basic Invite is offering a 15% off deal when you use the  coupon code: 15FF51
Social Media Links: @basicinvite
FAQs about Showers
1. Who pays for the shower?
Typically, the host is supposed to pay for the shower, but other people close to the couple may choose to pay or support the shower financially.
2. When do you throw a bridal shower?
It is best to throw a bridal shower between 3 weeks before the wedding
3. When do I send out invites for the shower?
Ideally, it is best to send out invites at least 4-6weeks before.
4. Is the couple included in the shower planning?
Unless it is a surprise shower, the couple or bride(depending on the type of shower) should be involved, as they provide the basic information of what they want their event to be.
5. What is the dress code for showers?
This depends on the couple or bride, it can be as formal or casual as they want.
6. How long should a shower party last?
Anytime between 2-4 hours, but it could be more.
7. How many guests should be invited to a shower?
A bridal shower should have between 15-50 guests. 15 for intimate bridal showers, and a maximum of 50 guests for Co-ed showers.
References
https://www.evacatherine.com/post/bridal-shower-invitations-thank-you-notes-with-basic-invite
https://www.marthastewart.com/7915310/guide-to-bridal-shower-invitations
https://www.zola.com/expert-advice/a-guide-to-bridal-showers
https://www.brides.com/story/bridal-shower-etiquette
https://www.weddingwire.ca/wedding-ideas/how-to-plan-a-bridal-shower–c136
https://www.theknot.com/content/couple-bridal-shower-basics#:~:text=A%20couple%20shower%20is%20closer,goods%20and%20guy%2Dfriendly%20gadgets.
https://www.weddingwire.com/wedding-ideas/how-to-plan-a-co-ed-wedding-shower
https://affordableweddingvenuesandmenus.com/blog/couples-shower-ideas-invitations-and-themes-for-a-co-ed-wedding-shower
https://www.weddingwire.com/wedding-ideas/how-to-plan-a-bridal-shower
ALSO, READ