Tips For A Vacation In St George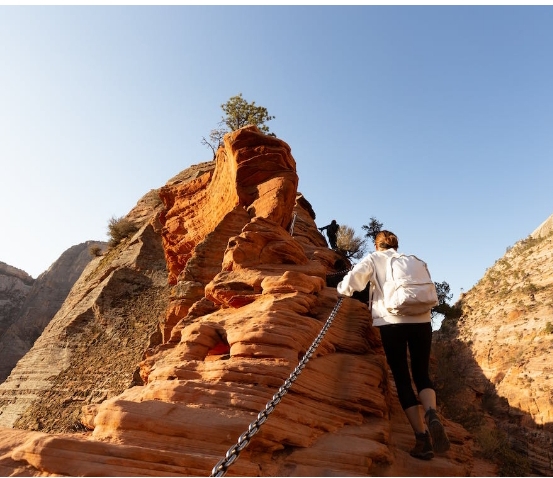 Last Updated on January 2, 2023 by Joshua Isibor
St George is a warm-weather getaway located below the Great Basin's rim in Utah. The breathtaking valley blends transitional geographical features from the Colorado Plateau and nearby basin with the Mojave Desert's flora and fauna. The city is one of Utah's fastest-growing communities, surrounded by red sandstone canyons and luscious streams. Today, the distinctive location of St. George has resulted in the city becoming a popular tourist destination with opulent spas, shopping centers, championship golf courses, and nearby outdoor recreational facilities.
Along with being a sanctuary for adventure seekers and nature enthusiasts, St. George provides visitors with numerous opportunities to indulge in more upscale cultural attractions, distinctive historic structures, a thriving arts scene, and an incredible variety of casual and fine-dining restaurants.
Have we persuaded you to book a trip to St. George? Check out the following tips to make your vacation memorable.
Discover the best restaurants in the city
Whether you're an outdoor enthusiast or an art and culture aficionado doesn't matter. From hearty American comfort food to southern-inspired dishes, the fantastic dining alternatives in St. George will make you fall in love with the city's food. You can Google a list of the best St. George restaurants to find something that suits your taste. The city offers a variety of dining options to suit every taste and mood, from upscale restaurants for special occasions to quiet dining spots.
Benja Thai and Sushi is the best location in town to eat delicious sushi and real Thai food. Or visit The Painted Pony, a restaurant serving Southwestern dishes in the center of St. George. Modern art is used extensively throughout the restaurant, giving it a stylish and inviting setting.
Check out Bryce Canyon National Park
Bryce is known for its unique geology, featuring a series of natural amphitheaters (also called hoodoos) carved into the landscape by erosion. It takes about 2.5-3 hours from St. George to reach the largest amphitheater in the state, also known as the Bryce Canyon. The hoodoos are made of sandstone, limestone, and other sedimentary rocks and range in color from pink to orange to red, depending on the minerals present in the rock. Seems pretty magnificent, doesn't it?
The quest becomes adventurous with the park's several hiking trails, ranging in difficulty from easy to strenuous, and several backcountry trails for more experienced hikers. The park also offers ranger-led programs, such as guided hikes and geology talks, that allow tourists to learn more about the park's natural and cultural history.
Visit the alluring St George Temple
Since the initial Midwest Mormon immigrants built their first temple here after arriving in Utah, St. George is home to a sizable Mormon community. The Church of Jesus Christ of Latter-day Saints (LDS), more commonly known as The Temple, is an impressive monument easy to recognize because of its gleaming white facade. It has a height of 175 feet and an internal area of over 100,000 square feet, and is also the oldest LDS temple still in use today and has three ritual rooms and eighteen sealing compartments.
You can take a guided tour of The Temple that typically lasts about 45 minutes and are free of charge. For culture lovers, it is a fun and enlightening experience and an unparalleled opportunity to discover a new culture.
Stop by Dixie Sugarloaf and Pioneer Park
Your eyes will be drawn to the massive white lettering etched on one of the soaring red sandstone peaks surrounding St. George as soon as you arrive here. Those enormous white signs identify Pioneer Park, a well-known recreation place that both locals and people visiting the city patronize.
The park offers a variety of cliffs to scale, boulders to climb, paths to stroll, canyons to swim through, and caverns to uncover, making it the ideal place for a family adventure.
Visit Kayenta Art Village, Ivins
Kayenta Village is a bustling art center located on the outskirts of St. George in Ivins. This art museum is nothing short of a utopia for art lovers, with a wide variety of art galleries, studios, museums, gift stores, a theatre, and a coffee shop. The suburb also has a wonderful desert plant conservatory and a rose garden that resembles a maze.
Check out Palledin Balloon Excursions
St. George and the vicinities are rich in natural beauty, with spectacular red sandstone landscapes and vibrant desert vistas. Even if most travelers admire this sight from the ground, a hot air balloon journey will change how you perceive the state's breathtaking natural beauty.
Hot air balloon rides with Palledin Balloon Excursions typically last about an hour and offer stunning views of the surrounding landscape. The balloons fly at a low altitude, allowing passengers to see the landscape in detail and take in the sights and sounds of the surrounding area.
Visit Bloomington Petroglyph Park
Bloomington Petroglyph Park is a fenced, half-acre plot in the center of a peaceful neighborhood in St George. It was initially designed to safeguard the petroglyphs, or rock engravings, left behind by the region's inhabitants before 1870. And it does so incredibly well.
Despite its tiny size, Bloomington Petroglyph Park is a popular tourist destination for visitors of all ages. The park's convenient location next to the highway makes it an excellent picnic spot where you can appreciate the stunning images of humans and animals carved into the stones.
Conclusion
Utah attracts over 11 million tourists annually, and St. George is a popular choice because of its breathtaking views, rich cultural history, and upscale attractions. This guide highlights some of the best attractions for you to add to your itinerary. The city's picturesque viewpoints, amazing red rock formations, cozy lodgings, delectable cuisine, and pleasant atmosphere will make your stay a noteworthy highlight of your journey to the Beehive State.