Fun Ways to Share Your Wedding on Instagram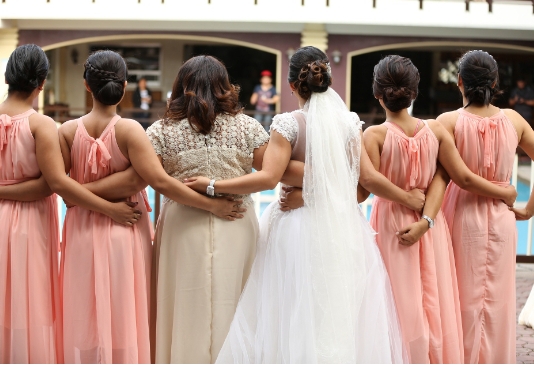 Last Updated on December 1, 2022 by Joshua Isibor
Fun Ways to Share Your Wedding on Instagram
Instagram has quickly become one of the most popular social media platforms among wedding couples. It's a great way to share Instagram is a great way to share your Wedding experience with friends and family. There are many fun and interesting ways you can use this social media platform to engage with your guests and create unique photo opportunities for them to upload on their own feeds. Let's take a look at some of the best ideas for Instagrammable moments at your Wedding.
One popular way to create an Instagrammable moment for your guests and Instagram followers is to have a photo booth at the reception. This can be as simple as setting up a fun backdrop that your guests can pose in front of, or you can get more creative and set up props they can use while they take their photos. You could even have a fun dress-up box available, so your guests can get creative with their photos.
Another great way to create Instagrammable moments is by setting up a fun food station or candy bar at your reception. Food stations are perfect for creating unique photo opportunities, as they often have creative themes and decorations that make for eye-catching images. You could also set up a candy bar where guests can pick out their own sweets and share photos of their choice on social media.
Looking for more ideas? Don't worry, this article is full of them! Be sure to read until the end.
How to Showcase Your Wedding on Instagram
Using Instagram to showcase your wedding is a great way to get your message out to a large audience. However, there are a few things you must know before you start.
First, you need to decide on a hashtag that will be used for all of your posts. Hashtags are important because they help you get your content in front of the right people. If you are using hashtags, you will have more exposure and you will be more likely to get likes.
Second, you will need to post regularly. Posting high quality content will help you to grow your audience. The more people who see your posts, the more likely they will be to engage with you.
Third, you will need to know what type of content your audience is looking for. For example, if they are looking for pictures of wedding venues, they will want to see images of wedding venues.
Post Images from Your Wedding on IG
Using social media to share images from your wedding on Instagram is a great way to relive the wedding day. You can create a wedding album that you can display in your home or share with friends and family.
One of the best ways to share images from your wedding on Instagram is to use a hashtag. This can be a time-saver and a good way to find the best photos from the wedding. It is also an effective way to get people to engage with the event.
A hashtag wall is a great way to get people to share their photos and thoughts on the event. You can also put up a poster background with your wedding hashtag. This will encourage people to get out and take more pictures.
Share Wedding Invites on Social Media
Using social media at a wedding can be a fun way to get your guests involved. However, you should be aware of the social media etiquette when using these platforms.
Creating a hashtag is one of the simplest ways to get your guests involved. You can create a hashtag wall, display a hashtag on your wedding website, or create a hashtag photo corner.
The best part of using a hashtag at your wedding is that it can help to make the reception more fun. The hashtag can be displayed on a large poster background with the names of the bride and groom. This will help to promote photos on the wedding day and encourage guests to take more photos.
Creating a hashtag wall is the perfect way to encourage your guests to post their best wedding photo. It can also help your guests to share their well wishes. The hashtag can be a great way to thank guests for attending your wedding.
Tag Friends and Family Attending the Wedding
Using a hashtag is a great way to make the most of your wedding photos. It's also a great way to get your guests to share their pictures. For example, wedding magazines often recommend that it's a good idea to have a picture corner where friends and family can take photos using the hashtag. This way, you'll get more photos of the wedding and everyone will have a good time.
When choosing a hashtag, it's important to find one that is unique and is easy to read. This means using a hashtag that's easy to spell, doesn't include complicated words or symbols, and doesn't have negative connotations. It's also a good idea to check other hashtags for their quality and ease of use.
The best wedding hashtags are unique, fun, and easy to use. For example, #SayYesToTheCress is a clever hashtag that's ideal for couples with a last name that rhymes with dress.
Link Back to Your Wedding Website
Including a link back to your wedding website is a great way to make your wedding more personal. This allows you to share your photos, and give guests a chance to relive their favorite memories from your wedding. You can also use your wedding website to include important information for guests.
When putting together your wedding website, make sure it has a unique look. The design should match your personality. It should also be user-friendly. You want your guests to be able to navigate the website easily.
You may also want to include information about the wedding venue. This can include an illustrated representation of the venue. You can also provide a map of the venue or an interactive voice map. You can also include information about the venue's phone number.
Even More Fun Ideas to Promote Your Wedding on Instagram
In addition to everything else mentioned above, here are some extra fun and original ways you can take advantage of this popular social media platform to capture your wedding and other milestone moments.
– Take your friends or family member's photos and post them on Instagram.
– Ask your guests to take a photo of you during the wedding and post it using a specific hashtag, so you can easily find these images later.
– Use an app like InstaQuote to create beautiful text captions for your photos that add some fun personality.
– Consider a Polaroid guestbook that guests can leave pictures and messages in for you to look through later.
– Include an Instagram hashtag on your invitations so guests know how to easily tag their photos of the wedding.
– Use an Instacanvas app to create a beautiful canvas print of your wedding photos.
– If you have a unique hashtag, use it for other events in your life like baby showers, birthday parties, etc., so friends can keep up with the happenings in your life.
– Take a photo of yourself every year on your wedding anniversary and document your life together using Instagram!
I'm sure there are many more great ideas out there, so feel free to comment below with other fun ways you've used Instagram for your own special occasions.
---
Also, Read How To Save Your Marriage when it seems impossible