7 WAYS TO KEEP YOUR CHILD SAFE ONLINE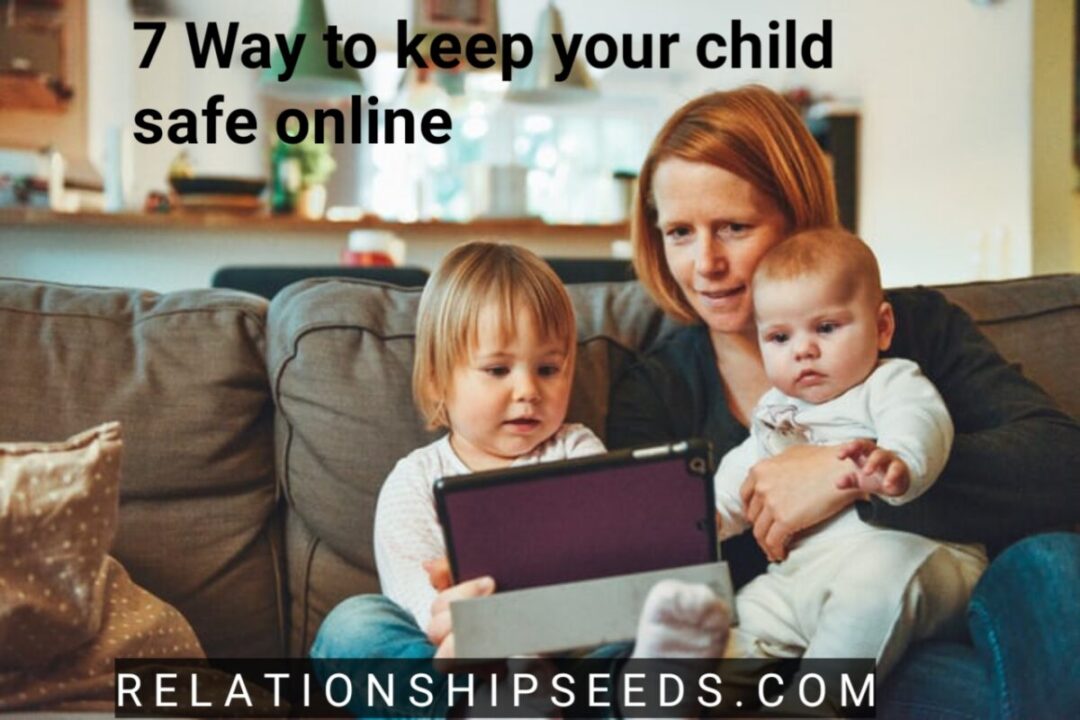 Last Updated on July 26, 2022 by Joshua Isibor
It is important you ensure your child safe online as a parent. Although the internet is a beautiful place with beautiful people, it can also become a terrible place if not properly managed. And since children are fast becoming internet whiz; achieving great feats using technology, it is not unusual to see a child who can code and write applications; access websites; hack websites among others.
Therefore, parents must rise to the challenge of ensuring online safety for their children. The trend has changed, and the parenting space is also changing. Parents are expected to acquire knowledge on how to handle their children's online behavior.
A study carried out by the Center for Cyber Safety and Education on "Children's Internet Usage Study" in 2016 reported on the internet behavior of 4th- to 8th-grade children in the United States. The study revealed that.
40% of children chatted with a stranger online
53% revealed their phone number
15% tried to meet the stranger
6% revealed their home address.
These are risky and scary facts for parents.
Furthermore, another study revealed that:
9% are using the internet in ways their parents won't approve
21%visit sites where they can chat with strangers
17% are visiting sites with sexual photos or adult videos
11% are visiting sites with instructions for cheating on schoolwork
4%are visiting gambling sites
Source: https://iamcybersafe.org/parent-research/
 So who is to blame?
Do we blame the parent who buys the gadget; the child who is using the internet wrongly or the internet that provides easy access to information and people for the child? While the blame is being shared around, we must also understand that the internet is now a part of our lives. And as a result of this understanding, the job of every parent is to know what your child is doing online and also help your child stay safe online.
How to protect my child on the internet
1.Discuss with your child: Teach your child the acceptable and unacceptable online behavior.
Unacceptable behaviors. 
Sharing password, full name, address with strangers you meet online
Meeting anybody online physically without parental approval
Clicking on sites that advertise "free" items, these might scammers, gambling, or pornography sites.
Taking action on spam messages that you are not sure of
Hiding your online mistakes from parents
Involving in cyberbullying
Acceptable Behaviours. 
Employ the internet for school works
Access age-appropriate movies, videos and favorite music
Keep in touch with family and friends
Learn skills onlineAlso, install anti-virus that blocks harmful content: anti-virus software is effective in blocking viruses, spyware, and malicious websites. Therefore by installing it on your child's gadget, you are also protecting your child from online fraud. Example, AVG Internet Security
Similarly, have Access to your child's phone: your child is not entitled to his/her privacy until he/she is of legal age. So, no security locks on gadgets, however, you should advise your child to keep his/her gadget locked in the company of friends, to avoid online pranks and bullying.
You can also check browsing history: make it a routine to check your child's browsing history. Find out through browsing history what your child does online. Remember keeping your child safe online is a serious issue, so you must know the websites your child is visiting.
Furthermore, buy age-appropriate gadgets: if you want to keep your child safe online, then you must buy only age-appropriate gadgets. For instance, a ten-year-old child shouldn't use the same gadget with a 21year old child. A ten-year-old child will mostly need educational gadgets, unlike a 21-year-old.
Constantly check installed apps: endeavor to monitor the apps your child download on his/her gadget.
Finally, regulate time spent with gadgets: to keep your child safe online, regulate the amount of time spent with gadgets. If the time spent with gadgets is not regulated, your child can stay awake at odd hours, chatting and connecting with strangers.
Your child's safety online is a serious business, and you must treat it as such. While parents cannot deny that the internet has come to stay, parents, however, must strive to keep their children safe online.
Click here to read==> RAISING A FINANCIALLY INTELLIGENT CHILD