How Impotent Men Can Make Love?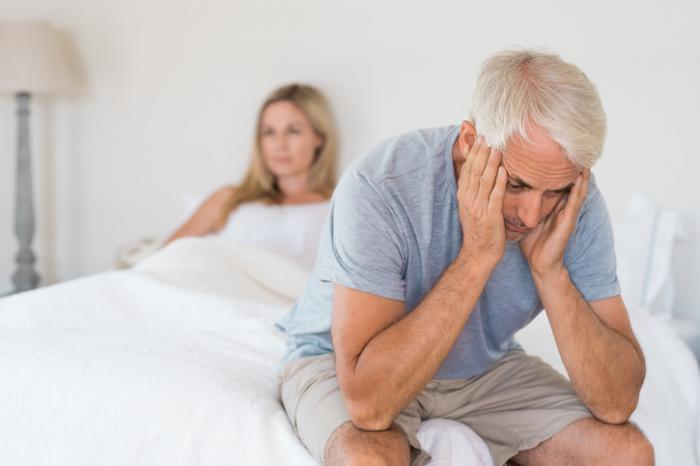 Last Updated on August 30, 2022 by Joshua Isibor
Impotence is not to be perceived as an end to fulfilling sex life. It is surely a man's problem and a woman's despair. Impotence can be a ruthless relationship killer.
Impotence or ED (Erectile Dysfunction) is still majorly perceived as a man's problem alone. Because of its embarrassment, many men who suffer refuse to effectively communicate it to their partners. They are ashamed and feel they have to carry the burden of it by dealing with it themselves.
The embarrassment also withholds the suffering men from seeking professional help. The only way they choose to cope is by avoiding sexual contact altogether. Even if the man with the said affliction gathers the guts to reach the therapist's office, he is against his partner accompanying him more often than not.
Leaving the woman out of the equation alienates her and doubles the impact the man's impotence has on her well-being. A woman with an impotent partner may feel she is unloved or her appeal is unsexy. She may feel the romantic spark that burned bright with her partner has completely faded.
In her reluctance to appear insensitive, she may hesitate to be proactive in communicating with her partner to satisfy her pent-up s3xual desires. The Woman may fear something's wrong with her man, something that has to do with his health or his work.
Many men also regain their potency. Even those who don't can also be effective lovers. With some insights and creative imagination, it's possible to restrict impotence from ruining your love life and the beauty in your relationship.
When is it not impotence?
An occasional performance failure cannot be categorized as the feared impotence. When a man who was a stellar performer in bed slips in his action one time, her partner may start questioning her self-image and attraction. It is usual for some women to suspect their husbands of having affairs.
All men now and then go through something like this. These occasional failures do not define their identity as impotent. The reasons for it may vary, it can be the many stressful and anxiety-inducing fast-paced lifestyles we are increasingly adopting. Persistent worry and professional obligations may have some part to play.
If it's an occasional occurrence in performance, ignore it and steer yourself away from the counterproductive thoughts. Don't start obsessing over it. If such a thought process enters your consciousness, the performance anxiety will slowly creep in. It can lead to a vicious cycle.
How to regain the lost intimacy and make love again?
Communication
The most important and effective tool for a very satisfying sex life or a very fulfilling relationship is clear communication. If you have ED, there is no better way to start addressing and doing something about it.
Talk openly and freely about your intimate desires. Without hesitation communicate your deep fears. The whole experience will manifest a new bond that solidifies your relationship. This eliminates the worry the woman may be having regarding her attraction and sex appeal. It is essential to reassure each other and remain supportive.
Don't be afraid to seek professional help. A good sex therapist can help you and your partner in overcoming these issues and provide valuable insights on improving your sex life.
Relaxation
Stress and anxiety are significant contributors to ED. In many cases, their role is more impactful than the physiological problems. When buried in worry, both the performance and the enjoyment dwindles.
Redirect your focus and attention from your ED to getting intimate with your partner. Lose yourself in the moment. Enjoy the little things that make the atmosphere romantic and sensual. Cherish the time you are getting to spend with your partner. Try deep breathing exercises to relax and be mindful.
A gentle erotic touch may bring simple pleasure. The more relaxed you are, the more you'll break the barrier of impotency to experience fulfilling and stress-free sexual action.
Rediscovery
Reflect on the moments you and your partner had when you first started your relationship. Channel that experience of each touch electrifying your senses. Remember what it was like to explore so many new things about this fascinating person. You both had built this bridge of relationship discovering each other's life from a unique perspective.
Relive those beautiful moments of togetherness. Kiss, laugh and experiment. There are many sex toys available for adult play. Just immerse yourself in the act and just purely enjoy it. Touch and caress each other. Discover the joy in extra-foreplay and sync intimately with your partner.
Playfulness
Even without a firm erection, you may still be able to 0rgasm. Even without intercourse, you and your partner can indulge in a great deal of sexual pleasure. All you need is a desire to take action and a twisted creative thought.
Mutual masturb@tion is one great way to learn more about what you and your partner enjoy. Experiment with innovative s3x toys to turn things spicy on the bed. Sex Vibrators are great to provide CLIT0RAL STIMULATI0N. Penis sleeves are fascinating toys for men with ED to wear and satisfy their partners. Along with tools for arousal and action, both mutual and oral stimulation can also be fun and exciting.
Sex doesn't just have to be a game where the playground is always the bed. You can choose different and safe locations to be intimate and let the novelty of the place add extra excitement.
Determination
Physical intimacy is an essential part that sustains a happy and satisfying relationship. It's possible to establish a relationship and have a sexually fulfilling time even without an active ERECTI0N.
Doctors may prescribe medications and treatments for ED. There might be other underlying ignored conditions that need to be addressed. Impotency can also mean early warning signs of heart disease.
For a long-term satisfying s3x life, it's important to take care of your overall health. You also need to practice good communication to clearly convey your intentions and desires. Have a grip on your sexual expectations, adopt healthy habits into your lifestyle. Don't forget to get creative to satisfy each other's needs.