How to Set the Scene for a Romantic Evening with Floaties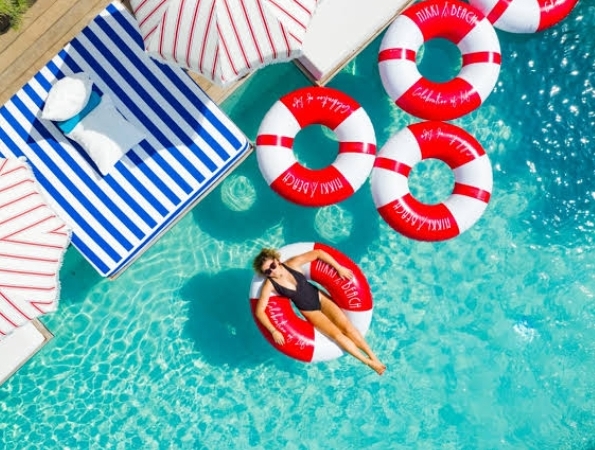 Last Updated on September 13, 2023 by Joshua Isibor
Whether you are married, in a serious relationship, or just starting a new relationship, you'll agree that it could be quite challenging to come up with romantic dates – or just plan for a romantic evening. Every time they have made you feel loved and provided you with countless loving memories. Now it's your time to do the same for them.
You'll be pleased to learn that you don't always have to travel or visit a five-star restaurant. While a candlelit dinner or a walk on the beach are typical romantic choices, you can take it up a notch with inflatables. A romantic evening with floaties might be just what you need to express your love to your partner.
In this article, we will explain a few ideas for a romantic evening with floaties.
How to Plan a Romantic Evening with Floaties
When it comes to romance, the key to surprise your partner with a fantastic romantic evening is to do what they like or use a theme that focuses on their interests. For instance, suppose they love flowers. In that case, you could organize a poolside dinner with made-to-order pool inflatables customized with flowery designs, which maximizes the ambiance of relaxation and luxury and makes the scene personalized. Or better yet, use floaties that can hold their favorite flowers. This elevates their mood and makes them happier. With custom inflatables, you can even go further to personalize the floaties with their names.
Here are a few other ways to plan a romantic evening with floaties.
Choose the Perfect Location and Pair with the Right Inflatable
The location you choose plays a big role in your romantic evening. It will even have a bigger influence if you want to have a swell time while gazing into the eyes of your lover. This is why you need to choose the right location and pair them with the right floaties. For instance, if you plan to use your dining room, you can use heart-shaped balloons and inflatable rose petals. Or suppose you prefer a backyard pool, or a private beach, you should use inflatable swans, customized floating loungers, and donuts..
Plan Your Date for the Golden Hour with Floaties
Perfect timing can help you create a naturally romantic atmosphere. Plan your date during the golden hour. The golden hour is the brief period shortly before sunset when the natural lighting is soft and warm. The gentle lights from the sun during the golden hours adds a romantic feel to the atmosphere. This will help create a captivating experience that you and your partner wouldn't forget for a long time.
Floaties can further elevate the atmosphere during the golden hour, especially if you plan your evening at the lake or pool. You can use inflatable rafts, kayaks, and paddles to float on the water and enjoy the beauty of the golden hour.
Use Inflatable Rafts for a Picnic on the Water
A romantic picnic on the water can surely wow your partner. If you have a lake, river, or an in-house pool, you can set yourself a delightful floating romantic date on the water. All you need is an inflatable raft that can hold your picnic supplies like basket, coolers, foods, and drinks. Make sure to inflate the raft properly and check for any defect on it before you start.
Point to note: Safety should always be a priority. If you or your partner cannot swim, you should consider purchasing life jackets or other personal flotation devices in case of an accident.
Go for a Swim with Your Partner and Some Inflatables
If your partner loves to swim, you should make it into a romantic date for them. The beach, lake, or a private pool can provide an ideal location for a swim date. A romantic swim date with inflatables offers the right mix of adventure and intimacy. It has a unique and enchanting setting that provides an opportunity to create beautiful memories.
Choose inflatables that enhance the romantic feel such as double floats, floating loungers, and canopies.
Add Inflatable Decor to the Setting
Imagine seeing heart-shaped floaties customized with your name or initials at your date! Or "I love you" printed on inflatable hearts.
Inflatable decoration can add an enchanting touch of romance to your evening date. You could customize them with the name of your lover, and include them in the decor.
They come in a wide variety of forms so they can be used in a wide range of settings. For example, if you are having a date at a pool, you could use floating lanterns, floating flowers, inflatable swans, and floating letters. If you are having a date at home, you could use inflatable LED love letters, inflatable rose petals, and heart-shaped balloons. You just have to choose the right inflatable for the right setting.
Enjoy Your Date
Simply relax and enjoy each other's company in a beautiful setting. You've done the work. Now is the time to relish in the company of your lover and have a romantic night.
Final Note
If you want to do something different for your partner, you should try out a romantic evening with floaties. Inflatables can set the stage for a night of love and connection. Incorporate them to elevate the aesthetics and create a magical atmosphere that helps to forge lasting memories.
And don't forget to bring the camera! You'll want to remember this special evening for years to come.
---
Also, Read Predicting Your Romantic Future through Your Personality