The Best Travel Guide For Families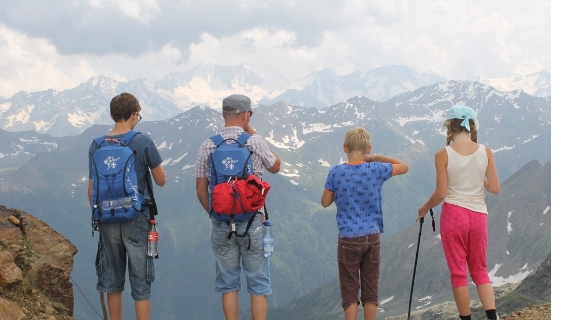 Last Updated on July 17, 2023 by Joshua Isibor
No matter what age, travel always opens us up to mesmerizing experiences. We taste new cuisines, witness breathtaking views, and have a wonderful time. Travel can be even more amazing if you do it with your significant other or friends. But when your family is in the picture, things are bound to get a little crazy because there are long packing lists, unpredictable schedules, cranky kids, etc. Also, let's not forget the number of challenges you'll experience on your way and how they'll affect your mood. Needless to say, if you are not prepared, your family trip is bound to stink. The key to a happy traveling experience is to stay smart and plan so that you and your family can focus on the good stuff and have the best time. Need some help in that regard? We have you covered.
Whether you're going on a trip or just thinking about some family-friendly vacation ideas, this fam-jam travel guide will assist you:
1. Think about where you will be going.
This is the premise on which the remainder of our family's vacations is built. Think about everyone in the family's tastes before making a choice. More importantly, make sure it will work for all.
The skilled team at Made in Turkey Tours will bring you there in the preferred style and budget, whether you're seeking an exciting trip or are interested in historical and cultural features.
Furthermore, if the goal is to have a mountain-rich vacation with your family, why not steer your wagon toward the Great Smoky Mountains? This place features many historical sites that your kids will enjoy, plenty of well-reputed restaurants, and over 800 miles of hiking trails. Additionally, if you plan to stay for a week, you can arrange your stay in some Smoky Mountain cabins with game rooms. The Eagles Ridge Resort is one such example that is also popular among tourists. Adding to the family fun, you can even do a wide range of outdoor activities in the Pigeon Forge area, including hiking, fishing, and white water rafting.
Moreover, know which permits and documentation you need if you're traveling internationally. For instance, depending on which country, you need to get a valid international driving license if you plan on driving on foreign roads. Aside from serving as your legal permit to drive, it's also a legal form of identification in some countries.
2. Take into account everyone's temperaments.
Never let a family member's disposition ruin a vacation. Each family member's preferences should be considered while creating the schedule and excursions. What makes your children grumpy? What makes your teenage daughter nervous? Does anyone frequently become "hungry"? Consider these factors to ensure everyone has a great time on vacation. Avoid doing or saying anything that will only make your kids or partner react negatively. Prepare food for extended road trips if someone tends to get "hungry." When choosing a hotel or holiday spot, remember if someone dislikes noise from loud music.
3. Make all of your reservations in advance.
Make sure everyone is on board with the dates, timings, costs, activities, and other parts of your schedule if you are arranging a family vacation. While traveling, you won't have to make any reservations, which is convenient. Organizing your layovers and stops in advance is also beneficial. This can help you save time while driving and ensure that you take advantage of every stop at a gas station when you need to. Plan enough time during your flight's layover to unwind, visit the area, use the restroom, and have something to eat.
4. Take basic medicines with you.
Having a sick family member is one of the simplest ways to sabotage a day of travel (or potentially an entire trip). If everyone in the family becomes ill, it might get even worse. You want to be ready in case anything happens. Bringing a few over-the-counter medications with you is usually a good idea. Think about items like:
• Medicines for upset tummies
• Headache medicines
• Motion sickness medication
• Anti-allergy medicines
Be careful to bring any prescription medications that any member of your family takes with you as well.
5. Do not overpack.
You might believe that carrying familiar goods will maintain consistency in your habits and ensure you have all you need. However, there is a big chance that you will carry at least one child after a hard day.
Thus, take as little luggage as you can. Trying to keep all your home patterns will be impossible because traveling will disrupt them. It will only result in annoyance and a stiff neck. So, learn how to pack smartly.
6. Schedule some downtime
It's always convenient to have both the day of departure and the day after landing to unpack, tour, and unwind. Who doesn't want to nap or spend an hour by the pool after a long day of traveling? This allows you to enjoy some downtime.
7. Include a surprise element
Children can also become cynical. This is particularly true if family excursions last a few days. A day before the planned flight home, kids occasionally decide they've had enough excitement and want to return home. Set aside a game or activity that kids need to be aware of in advance to prevent this from happening. Plan a day, for instance, where the entire family can make a brief surprise detour to spend some hours at a tourist spot that isn't on the program. You may also astonish them with a trip to an unusual location that offers great family-friendly activities. You can also surprise your children with a trip to a family-friendly restaurant, where they can eat freshly baked croissants.
8. Don't stress about the small stuff.
You can never really plan for glitches, but acting them out and dramatizing them will disappoint you. We all are given lemons when we go on vacation, so you want to be someone who can make lemonade out of them. Find a way to make the most of it and transform it into something constructive. This will not only make your trip less hectic for you, but it will also set a terrific example for your children concerning how to deal with setbacks, mishaps, and modifications to the original itinerary—a skill that will serve them well throughout their lives as travelers.
9. Now, relax.
The most crucial piece of advice for a family trip is to remember to take a break. It's tempting to switch up the landscape and declare it a vacation, particularly given today's technology. A vacation is a break from the rat race. Have fun, take in the present, and unwind. On a less dignified note, bringing novelty candy for kids on lengthy vehicle rides is always a good idea when traveling with kids.
Conclusion
Family vacations don't have to be the kind of thing you put off "until the kids grow older." You'll be so happy you took the extra time when you see the wonderful effects travel will have on you and your family. The travel process only needs a bit more preparation and a mental shift. So relax, put these suggestions to use, spend time with your family, and make every second count.