Why We All Need a Little Bit Of Kinky In Our Lives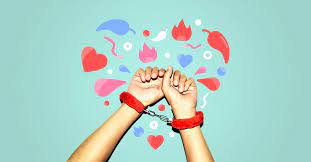 There have been many movies in the past that were real blockbusters and titles such as '9 ½ weeks and '50 shades of grey' were and still are popular choices for couples to watch even in this day and age. It's clear that people were not going to the cinema for the storylines and so we can correctly assume that there is a little bit of kinky in all of us that just needs an opportunity to escape. Talking about using various things in the bedroom is a kind of taboo subject and it really shouldn't be this way because sex is the most natural thing in the world and it is the reason why all of us are here today and you are reading this particular article.
Things like sex toys, bondage and other playful games in the bedroom do happen behind closed doors and just because you don't see it happening, it doesn't mean that it isn't. You need to get it into your head that it is probably one of the most natural things in the world to do and it helps with relationships that have become a little bit stale and a little bit predictable. A lot of marriages and relationships were kept together because a little bit of kinky was introduced into the boudoir.
Boudoir is a French term that refers to a woman's private dressing room. Over time, boudoir photography was born—an intimate, professional photography that can add a little kinkiness to your married life. In this photography theme, the client's flattering and beautiful body is the main subject of the photoshoot.  
The photos in boudoir photography are tasteful, sexy, classy, sensual, and elegant. Many couples seek boudoir photography before the wedding or after the honeymoon as a remembrance. You can hire a professional boudoir in Denver or your local area to create an unforgettable photo-shooting experience and embrace your sexuality.  
It's likely that there are many benefits that you just haven't thought about when it comes to embracing your sexuality and specifically the fetishes that you have and so the following are just some that can hopefully educate you and others a little.
A better social life – There are many clubs and organizations up and down the country that either come together in person or come together online to provide support for each other and to give some ideas about particular fetishes like bondage and how they can be made more enjoyable and safer. You will be meeting with like-minded people from all different parts of the spectrum and some may be doctors and others may be plumbers, but there is no doubt that you will be able to speak confidently with all of them.
You become a better communicator – One of the many complaints that lovers have in the bedroom is that their partner doesn't communicate with them properly and so they have no idea what they like and what they don't like. When you decide to introduce a little bit of kinky into your bedroom then there will be safe words that need to be used and so this increases the communication during lovemaking. You will find that this improvement in your communication skills will pass over into your working life and you become a much better communicator.
Enjoy Each Other's Company For The Long-Term

– One important aspect of enjoying a long-term relationship is openness, which involves open communication. Express your intimate desires with your partner, and don't hesitate to try new things. When you try a new sexual position or foreplay activity, you can discover more about each other's sexual needs and generously fill the gaps in your sexual life and overall relationship.

 

Resolve Issues Or Conflicts Amicably

– Relationship issues, such as

incompatibility

and misunderstanding, can be subtle. Many couples make love in bed but have hidden hatred or guilt toward each other. Expressing yourselves more openly using a little bit of bondage, sex toys, or photography can help extinguish issues and promote a better mood to discuss conflicts.

  
Not only will getting a little bit kinky help to improve your sex life dramatically but it will also provide you and your partner with the confidence that has been lacking as of late. We should all celebrate our sexuality and if it takes a few sex toys and a little bit of bondage in the bedroom to make our lovemaking more exciting and enjoyable, then so be it.
 ALSO, READ 7 Amazing Benefits of Couples Therapy