10 Affordable Winter Wedding Ideas That Your Guests Will Love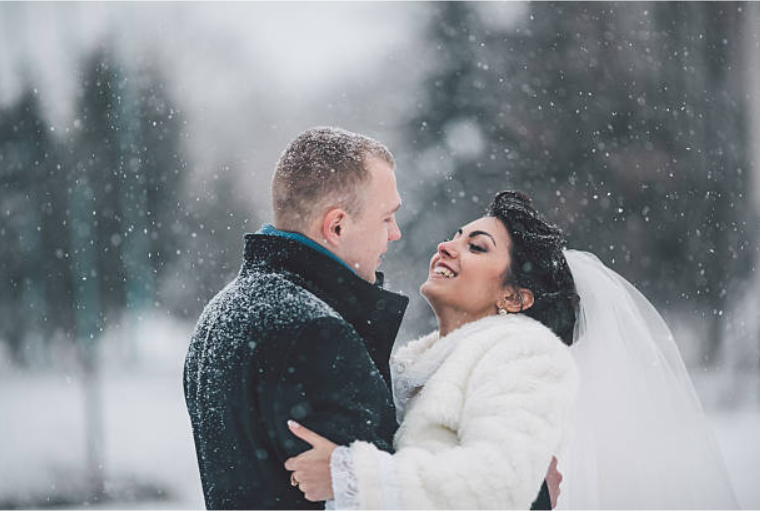 Last Updated on January 11, 2022 by Joshua Isibor
Are you looking for the perfect winter wedding?
It's that time of year again when couples all around the world are preparing to tie the knot and start their new lives together. 
Winter weddings are becoming increasingly popular and for good reason! These romantic celebrations have a certain charm that is hard to find in other seasons.
If you're someone who is looking for a beautiful winter wedding idea, then this article will help you find 10 affordable options!
10 Ultimate Winter Wedding Ideas
Winter weddings are a popular choice for couples who want to have an intimate, beautiful wedding during the cold season.
With these ten affordable winter wedding celebration ideas your guests will love, you'll be able to enjoy a cozy and romantic wedding without breaking the bank.
1) Choose a Winter Wedding Venue
Choosing a venue that caters to the season is the most basic approach to create the right ambiance for your winter wedding.
A simple all-white ceremony or reception room may be stunningly transformed into a winter wonderland atmosphere. It's a really gorgeous style that is actually simple to achieve.
White blossom trees, fairy lights, candles, and white chairs may be used to decorate the space. You can rent white tables and chairs, and artificial palm trees from a local event rental company and have your florist use all-white flowers.
The rustic ambiance of a barn perfectly complements the winter season's cold temperatures. Plus, a few decorations such as long garlands of greenery will turn the room into a cozy winter retreat.
Bonus Tip: Let Your Guests Know You're Thinking of Them With Gifts that Warm the Heart with Sentimental Winter Wedding Gift Ideas or Message!
2) Dress Code
For the bride, a popular choice is a winter wedding dress suitable for the season with heavier, warmer fabrics and longer sleeves. Many brides also choose to add some sparkle to their look with sequins or rhinestone accents. Don't forget to finish off your look with a stylish sweater or a fur wrap for maximum warmth.
For the bridesmaids, a great choice is a sparkling dress in a winter-inspired color like navy, burgundy, or dark green.
An emerald suit in a winter wedding is not out of place either.
For the men, it's better to choose modern suits with darker colors in wool or cashmere fabrics like black and grey.
3) Create a Cozy Atmosphere
For an indoor venue that is still cozy, consider decorating with winter-inspired accents like pine cones, evergreen branches, and berries. A dining table with family-style seating is another way to set the tone for a relaxed atmosphere.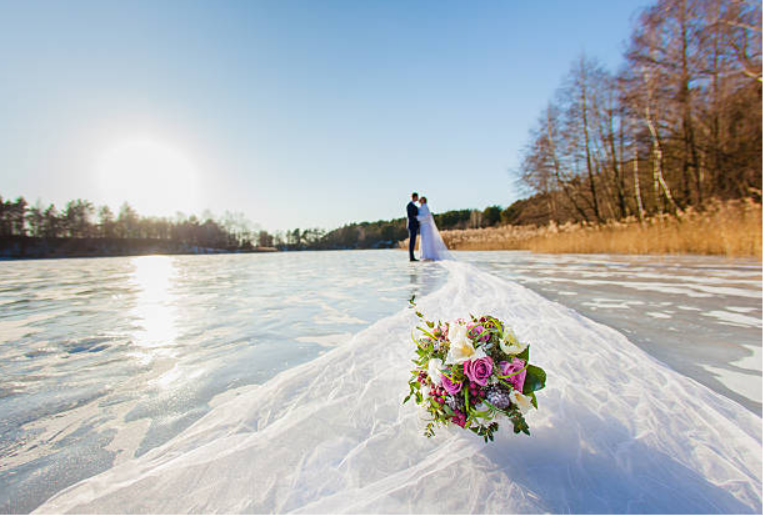 You can also create an outdoor feel by renting transparent tents that may be used by visitors to mingle and interact throughout the night. A cozy addition will be an indoor fire pit with a canopy of greenery or artificial snow.
4)  Go for Modern Monochrome Table Settings
 A black and white color palette is always a safe choice for winter weddings. Keep the table settings sleek and modern by using straight lines and geometric shapes. You can also add metallic accents like silver or gold to create some visual interest.
For centerpiece inspiration, think about incorporating branches, berries, ornaments, candles, or crystals.
5) Decorate With Twinkle Lights
There is something magical about twinkling lights. If you want to add some magic and extra warmth to your wedding decor this winter, why not hang twinkling fairy lights?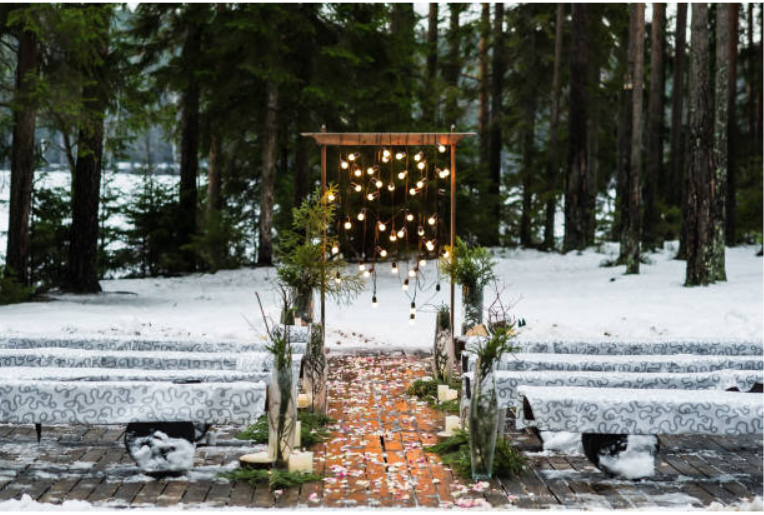 One of the best things about winter weddings is that you can go crazy with twinkle lights! You can drape them around the venue, hang them from the ceiling, or wrap them around trees. They'll add a touch of magic and romance to your big day.
6) Line the Aisle
Create a warm and inviting atmosphere by lighting your aisle with candles.
If you're getting married outside, lining the aisle with candles is a great way to keep your guests warm. You can also use fairy lights or strings of Christmas lights for extra sparkle.
Lining the aisle with flowers is also a popular choice, but be sure to pick flowers that are in season during winter.
ALSO, READ Wedding Costs: Understanding Who Pays for What
7) Provide Blankets for Guests
Keep your guests warm.
Provide fleece blankets to guests as they arrive at the location to keep them warm during the ceremony.
Provide them with a cute hamper of blankets near the entrance – especially if you have elderly guests.
Attendees will be able to cuddle up before and after the wedding ceremony and take them home as wedding favors.
8) Add a Wintery Wedding Arch to your Ceremony
A winter-inspired arched structure decorated with twinkling lights and greenery is the perfect addition to any winter wedding. After the ceremony, you can move it into your reception room and let guests pose in front of it. It could even be the backdrop for a DIY photo booth!
9) Set Up a Hot Chocolate/ DIY S'mores Station
A creamy hot chocolate bar is the perfect way to keep your guests warm on a chilly winter day. Set up a hot chocolate bar with all of the fixings including different types of milk, flavored syrups, whipped cream, and mini marshmallows for toppings.
Who doesn't love s'mores? The best part about having a s'mores bar is that you can use a variety of different ingredients such as chocolate bars, graham crackers, and mini marshmallows.
What better way to enjoy the winter than by eating something warm and sweet on your wedding day? Guests will love munching on these delicious desserts while they take in all of the beauty around them. They are sure to appreciate your effort to make their day extra special.
10) Add Personal Touch To Your Cake With Natural Accents
When it comes to wedding cakes, the sky's the limit. If you're looking for a way to add a personal touch to your cake, consider using natural accents like fruit, nuts, or edible flowers. This allows you to choose a cake that fits your wedding theme perfectly while showcasing the natural beauty of seasonal ingredients.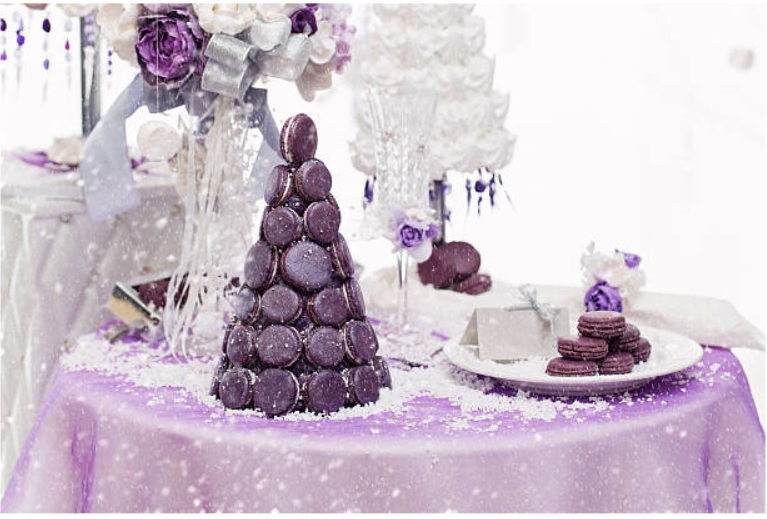 Parting gifts are one more way to let your friends and family know you're thinking of them during the big day. So whether it's a winter wedding gift idea or an ideal warm-weather offering, these gifts are sure to bring joy to your guests' hearts and homes.
A personalized wedding message is a great way to make your guests feel especially loved. And with winter wedding gift ideas, the possibilities are endless.
Conclusion:
A winter wedding is an experience unlike any other, and it's only made better by the people you invite. Winter weddings are perfect for those who want a smaller guest list or simply prefer something cozy rather than overwhelming. You can plan activities that everyone will enjoy like the ones mentioned above while also ensuring that your guests will be warm and comfortable.
If you're looking for some affordable winter wedding ideas, look no further! These ten suggestions will have your guests loving your wedding while keeping your budget in check. From choosing a winter-inspired venue to a personalized wedding gift idea, we've got you covered. So get inspired and start planning today!
ALSO, READ 10 Signs You're Ready to Get Married