Wedding Costs: Understanding Who Pays for What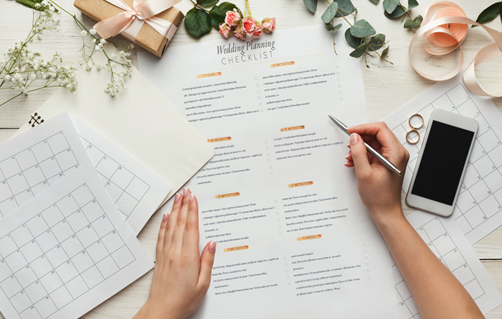 A wedding consists of traditions at almost every moment. It's part of what makes the entire experience so fun and memorable because these traditions have been practiced by friends and family over the years. Wedding traditions are special and even sacred to some, depending on religious views or cultural norms. Though it seems most wedding traditions are being reimagined or reinvented as of late, many couples still choose to stick to a classic wedding schedule full of tried and true traditions.
Between buying his and her wedding rings, bridal showers, the rehearsal dinner, reception and the honeymoon, there certainly is a lot to plan. It's also a big financial commitment! Thankfully, wedding traditions commonly include division of the overall cost between the bride, the groom and their families. Here's a breakdown of who usually pays for what when it comes to wedding festivities.
Divvying Up the Wedding Cost
To ease the financial burden and celebrate the marriage of two people, it is common for the couple's families to pay for certain items and events within the list of marriage festivities. Having said that, it's important to note that there is no concrete set of rules on who should pay for what when it comes to a wedding.
Though in the past it has been common for the bride's parents to pick up most of the wedding tab, that is in no way a definite rule. Even if the bride's family pays for the ceremony, many couples start saving their own money for their wedding festivities upon engagement.
The latter is especially needed if they plan to hold a destination wedding, like having their marriage in Thailand.
In terms of tradition, here's a more detailed breakdown:
Engagement Party: Many couples like to celebrate with their close friends and family after getting engaged. The engagement party typically happens within a few weeks of engagement and can range from a small get-together to a full-on soiree. Going by tradition, this would be something the bride's family would normally pay for. However, some close friend groups like to throw engagement parties for the future bride and groom as a gift to the couple, especially if they are close with both the bride and groom.
Bridal Shower: This is another fun event where bridesmaids and other female wedding guests can celebrate with the bride before her big day. This is usually taken care of by the bridesmaids or mother of the bride and includes fun activities like games, party favors and more.
Bachelor and Bachelorette Weekend: One of the most fun pre-wedding traditions is having time with your wedding party. The bachelorette and bachelor weekends typically happen close to the wedding day and serve as a chance for the bride and groom to bond with their close friends separately. While some family financial help might be involved on both sides, the maid of honor and best man are usually responsible for the planning of these weekends and sometimes decide to divide up the cost of the weekend between all attendees.
Rehearsal Dinner: A rehearsal dinner is not only a practice for the big day but also a time for the wedding party and other wedding guests to congregate and meet each other before the wedding. This event is commonly planned and paid for by the groom's parents. If the rehearsal dinner requires transportation, a cocktail hour or other add-ons, the groom's parents would be responsible for that as well.
Ceremony: While this term technically refers to the event where the bride and groom are formally married, it really entails more than this. The wedding day, in general, is traditionally paid for by the bride's parents. This includes pre-ceremony things like a place for the bride and her bridesmaids to get ready, a wedding planner, venue rental for the ceremony, and pre-wedding lunch for the bride and bridesmaids.
While the bridesmaids typically pay for their own dresses, either the bride herself or her parents typically buy her wedding gown. For the groom, he or his family are responsible for pre-ceremony drinks and food for the groomsmen, and the groom usually pays for his own wedding tux or suit.
Reception: This is another part of the wedding day that is typically paid for by the bride's parents. A reception might include photography, videography, a bar, the food selection, a wedding cake, and a DJ or band for after-dinner dancing.
Bride and Groom Gifts: On or before the wedding day, the bride and groom traditionally give something to each other, as well as to their bridesmaids and groomsmen. Men's wedding bands are traditionally given to the groom by the bride after the engagement, and the groom normally pays for the bride's engagement ring himself. The couple might give one another a special memento or hand-written letter on the day of their wedding as a gift.
As a thank you to her bridesmaids, the bride usually gives them a small gift she has chosen. For example, if the bride wears an oval-cut engagement ring, she might give her bridesmaids each a pair of earrings in the same shape to wear during the ceremony. The groom might give a similar accessory like matching bow ties or cufflinks for his groomsmen.
Honeymoon: In the past, the honeymoon was traditionally a gift from the groom's family to the happy couple. However, many couples now pay for their own honeymoon. It has also become common for couples to request a contribution to their honeymoon "fund" from wedding guests instead of a traditional registry gift.
Make Sure to Be on the Same Page
Although we have listed traditional options for the payments of various wedding components, be sure those you approach with your ideas are comfortable with the budget. No one wants to put their parents in debt as they approach retirement, and the wedding couple needs to keep their blissful future in mind along with their festive present. Pick and choose the activities and gifts that will provide the most lasting value. Fine jewelry will last longer than party favors, and heartfelt-felt sentiments are always appreciated.
ALSO, READ How To Promote A Wedding Hashtag?