Best gifts for anxious people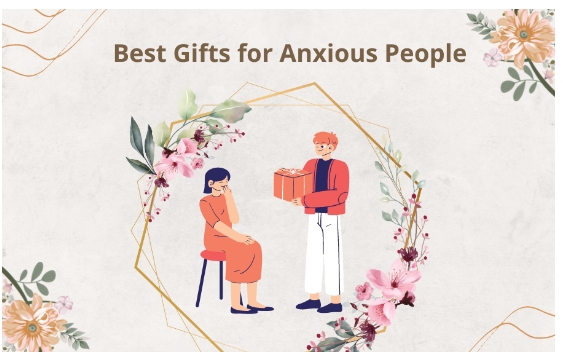 Last Updated on January 4, 2023 by Joshua Isibor
When you have a friend, family member, or colleague diagnosed with anxiety issues, you must choose personal and thoughtful gifts. You can go in for a thoughtful array of gifting options no matter what your budget is.
These are the personalized gifting themes you can go for:
Weighted Blankets
Weighted blankets top my list when it comes to choosing ideal gifts for anxious people. The blankets can be ideal for hot as well as cold sleepers. Again, as the blankets are heavy in nature, they are warm and cozy. For people who have anxiety issues, this gift can be the ideal one indeed.
This is mainly because the weighted blankets, owing to their heavy make, help them experience the feeling of someone hugging them, especially when they drape their blankets. This way, the blanket serves as a natural sleeping aid too. These weighted blankets are suitable for both adults as well as children indeed.
This is also a thoughtful gift when you want to give it to a friend or family member who has been diagnosed with anxiety issues. First, you get the theme in a sandbox. Then, you have artificial sand added to the same.
Plus, there are some natural elements that are to be raked up from the sand. The objects are to be arranged sequentially or symmetrically. The Zen Garden theme is definitely one of the best gifts for someone with anxiety.
This particular gift lends calm and peace to the sufferer. But, as you can see, the Zen Garden theme box is indeed compact. Therefore, the gift box is ideal for desks or compact cubicles.
Aromatherapy oils have always been wonderful for relaxing our stressed nerves or muscles. Why not make them personalized options as anxiety gifts? You have a bracelet that is pure stainless steel.
This is the kit that contains a mix of 4/8 essential oils. These are Lavender, Sweet Orange, Lemongrass, and Peppermint. You can carry the essential oils in a pouch or glass case. Else, you can attach the kit to the stainless steel bracelet and carry it wherever you go. These oils are believed to remove stress and anxiety levels from people.
You can get a deck of power thought cards. These are powerful, inspirational, and affirmative quotes with a work of art. This pack contains 64 of these luminous power thoughts, and the cards are done by 5 illustrators who have contributed 128 works of art.
You have a super-positive message to ponder over every single day. The cards can therefore bring hope and joy to people. Hence, the power cards make fantastic gifts for people with anxiety, helping them seamlessly sail through stress or anxiety.
You might have heard of crystal stones endowed with mind-soothing or healing properties afterward. Every crystal stone represents each energy chakra on tension points present in the body. Hence, crystal stones with healing properties pave the way as one of the ideal gifts for anxious people.
You can allow your anxious friend or relative to carry the crystal stone in one's pocket to reassure personal calm or composure. These crystal stones can also be displayed as ornamental pieces.
Meditation has always been the recommended mode of therapy to combat stress or tension. But, again, when you have to find the most comfortable place to meditate, you do not find it easy to locate one. Having a meditation pillow here comes to your rescue, indeed. You may be wondering what the purpose of owning a meditation pillow is.
A meditation pillow promotes a healthy posture for you to sit or meditate upon. This way, you can utilize the meditation pillow to sit in the recommended position as suggested to you by the physiotherapist or a mind healer whom you have approached. The pillow is filled with buckwheat hulls. Hence this is one of the most durable gifts for someone with anxiety.
The anxiety coloring book contains 40 pages of beautifully curated illustrations of art. Therefore, the book can help people come across anxious thoughts or aggressive mood swings. This is also one of the most thoughtful gifts for people with anxiety. Those hours on end, the anxiety sufferer crayons through the illustrations or works of art, the more soothing their mind becomes.
Again, you can color the drawings using gel pens, markers, colored pencils, or oil pastel crayons. Again, the high-quality paper has been used for the anxiety coloring book that is available on the stands for you to choose from.
Conclusion
These are the top 7 anxiety gifts I can think of. So, which is the one you are going to choose? For more, you can get beautiful ideas from one of the leading stores, the Ultimate Gift Guide.
---
Also, Read