DWELLING TOGETHER IN HIS PRESENCE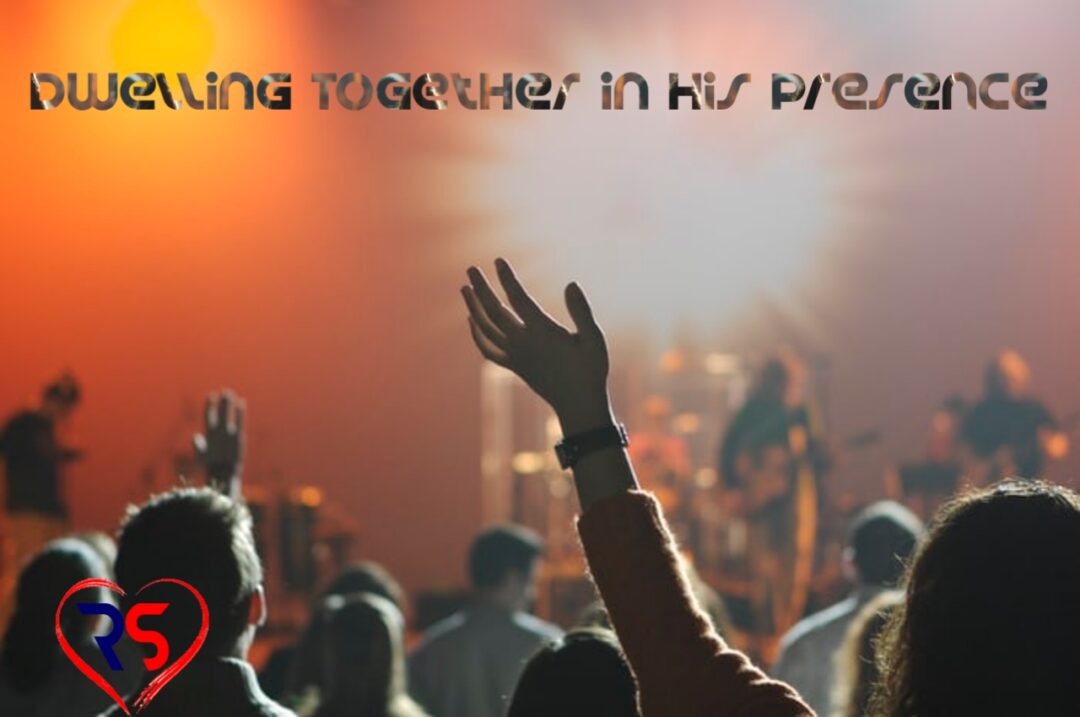 Last Updated on August 4, 2022 by Joshua Isibor
In This article, we'll be treating dwelling together in his presence as married couples.
What is God's presence?
It means God is in a particular person, situation or circumstance. If you look at Israel in the wilderness, when they left Egypt and we're going to Canaan in different ways, God manifested His presence to His people. For example, as they went on the journey at night, God came like a pillar of fire and in the day He came like a pillar of cloud.
Psalm 16:11:
"Thou wilt shew me the path of life: in thy presence is fullness of joy; at thy right hand there are pleasures for evermore."
His presence was with them. God also manifested His presence to them by providing food for them. He gave them manna and quails to eat. God's presence was also with them when He helped them to defeat their enemies like the Amalekites.
The presence of God was also with Israel because He was very patient with them for those forty years. They provoked Him ten times before He finally reacted. When God was annoyed with them, He showed His presence in a very terrible way. At a particular time, He sent serpents to bite His people! So God's presence is His presence in a particular person, situation, or circumstance and it can come in different ways. For us as married people, the presence of God is not optional. There is no alternative to God's presence because if a man leaves the presence of God, he enters the presence of the devil.
We know from the Bible that God works through families. God said it is not good for man to be alone. Without even praying, Adam got a wife because God knew that together with Eve, he would be a better person. Throughout the Bible, in many cases, people that God used were married people. We have Abraham and Sarah, Priscilla and Aquila, and David and his wives. Even Isaiah had a wife and she too was a prophetess. Only a few people were not married, like Paul the apostle. It is a blessing to be married.
For Moses, the presence of God was very important Exodus 33 verses 2, 15, 16, and 14. The same thing went for Paul. Paul said he preferred to die and to be with God. – 2 Cor. 5:8. David said in Psalm 84:10:
"For a day in thy courts is better than a thousand. I had rather be a doorkeeper in the house of my God than to dwell in the tents of wickedness. "
As married people, I want to point out a few things about the presence of God that we must know. Firstly, as a married person, it is possible to dwell with your spouse and not enjoy the presence of God. There is an example in the Bible of Ahab and Jezebel. Ahab was a king in Israel but he was a very wicked man. His wife was even more terrible. You will find their story in 1 Kings 16:31 and 1 Kings 18:18.
Secondly, you can enjoy His presence as a married couple at the beginning but in the end it is possible for you to be cast away from His presence. You will find a good example in Ananias and Sapphira in Acts 5:1-10. They were part of the early Church but some time later, they left the presence of God. The Bible says that by their fruits you shall know them.
How did we know that they left the presence of God? It was because they wanted to lie to the Holy Spirit. They sold their land and wanted to hide part of the money and bring part of it. It is like making a pledge with your spouse and failing to fulfill it.
Thirdly, as a married man or woman, it is possible for one partner to stay away from God's presence for some time. When this happens, something terrible may occur. There is a good story about Abraham, Sarah, and Hagar that will show you this in Gen. 16:1-5. Sarah told Abraham to go into her maid and they had a child called Ishmael.
Up till today, the descendants of Ishmael and the descendants of Abraham through Isaac are not friends. They are killing one another. Every day when you open the newspaper, you will find the story about the fight between the Jews and the Arabs. This started all because one woman was not staying in God's presence.
The wife of Job told him in Job 2:9 to curse God and die. Thank God, Job did not curse God. When a partner is not in the presence of God, the damage that can be done may be terrible.
Fourthly, I must dwell in the presence of God together with my spouse. Our lives are joined together. The Bible says the man will leave his father and mother and be joined to his wife and the two shall become one flesh. Our destinies are together. We sink or swim together and we shall not sink in Jesus' Name.
The fifth point is that there must never be a situation where one partner is enjoying the presence of God and the other partner is not enjoying the presence of God. What God has joined together let no man put asunder. Proverbs 27:17:
"Iron sharpeneth iron; so a man sharpeneth the countenance of his friend."
Ecclesiastes 4:9-12 :
"Two are better than one; because they have a good reward for their labour.
For if they fall, the one will lift up his fellow: but woe to him that is alone when he falleth; for he hath not another to help him up.
Again, if two lie together, then they have heat: but how can one be warm alone?
And if one prevail against him, two shall withstand him; and a threefold cord is not quickly broken."
1.What does it mean to dwell in His presence?
It means to stay permanently and not as a visitor. The visitor comes and goes but the dweller stays inside the house. To dwell means to continue doing something. As a couple, it means we are together with God at the same time, maybe not in the same place but together at the same time in the spirit. You will find what it means to dwell together in His presence in John 15:4-7, Isaiah 48, and 2 John 8:31-32
2.What happens in His presence?
Isaiah 6:1-8:
"In the year that king Uzziah died I saw also the Lord sitting upon a throne, high and lifted up, and his train filled the temple. Above it stood the seraphims: each one had six wings, with twain he covered his face, and with twain he covered his feet, and with twain he did fly.
And one cried unto another, and said, Holy, holy, holy, is the LORD of hosts: the whole earth is full of his glory. And the posts of the door moved at the voice of him that cried, and the house was filled with smoke. Then said I, Woe is me! for I am undone; because
I am a man of unclean lips, and I dwell in the midst of a people of unclean lips: for mine eyes have seen the King, the LORD of hosts. Then flew one of the seraphims unto me, having a live coal in his hand, which he had taken with the tongs from off the altar:
And he laid it upon my mouth, and said, Lo, this hath touched thy lips; and thine iniquity is taken away, and thy sin purged. Also I heard the voice of the Lord, saying, Whom shall I send, and who will go for us? Then said I, Here am I; send me.'
From the above passage, we can deduce six things that happens in His presence.
(a) Is 6:1 – When you are in the presence of God, you will see Him: When you see Him, it will help your marriage. It will help you and your partner to stay together because when you see God, you will fear Him. Many people do not fear God because they do not see Him. It is not possible to see Him physically, but you will see Him in the spirit as you read the word of God, and as you pray. Psalm 4:4:
"Stand in awe, and sin not: commune with your own heart upon your bed, and be still. Selah."
As a couple, you will see God as the anchor for your marriage, and that will help you a lot. When the cat is not at home, the mouse will play. When young children hear their father coming and they are One misbehaving, they will go and hide quickly because if daddy catches them there will be trouble. When there was no judge in Israel, people behaved anyhow. When you see a wife or husband misbehaving means that they have not seen God. When they see Him they will sit up
(b) Is. 6:5 – You will see yourself:
You will yourself as God sees you and that will help you a lot. Many of us see ourselves through our own eyes. When God sees you and He allows you to see yourself as He sees you, you will be embarrassed. You will see your nakedness. You will see your shortcomings and it will help you to accommodate the weakness of your spouse. He will help you to see yourself in such a way that you can work on your own weaknesses with His help.
(c) You will see the world, as God wants you to see it:
You will see the kind of environment you are living as a Christian couple. You are living in the world but you are not of the world and when you are in God's presence, He allows you to see what this world is like. The ideas of this world about marriage are not good at all because they are upside down. In some countries in Europe, a man is allowed to marry a man.
In Holland, a woman can marry a woman. In England, they are debating whether they should allow homosexuals to be Pastors. In some other places, it is possible to bring a woman into your house, have children for you but she will not bear your name: In the presence of God, you will see the world's systems. The Bible says that if a man loves the world he is an enemy of God. I will not be an enemy to God in Jesus' Name.
d) Isa. 6:5-7 – In the presence of God you will find divine help particularly in the use of the tongue:
The Bible says life and death is in the power of the tongue and those who love it will eat the fruit thereof. You will also find passages about the tongue in James 1:26 and James 3:2-12. If you want to stay in His presence, and I am talking to sisters particularly, please watch your mouths. If you want to stay with your husbands together in God's presence, you must watch your mouths.
Proverbs 21:19:
"It is better to dwell in the wilderness, than with a contentious and an angry woman."
Proverbs 25:24:
"It is better to dwell in the corner of the housetop, than with a brawling woman and in a wide house."
Once your mouth is set in order, there will be peace in the house. How can you cut your husband into pieces with your mouth and lift up holy hands to sing to the Lord? God will not answer you.
(e) The Bible says the earth is the Lord's and the fullness thereof:
As a married person, God has sent you to the whole world. When you are married, your efficiency is multiplied. One shall chase a thousand and two shall chase ten thousand (Deut. 32:30.)
(f) Isaiah 6:1 – When I am in His presence, I will see His glory:
You will see the glory of God like Moses saw the glory of God in Exodus 34:29-34. When you see the glory of God in your marriage, it will be different from any other marriage. There will be beauty in your marriage that others will like to have.
3.Why must we dwell in His presence?
(a) For fellowship (Mk 3:14):
God wants fellowship. When Jesus appointed the disciples, the first thing He wanted was for them to be with Him. God wants husbands and wives to be together with Him.
(b)For us to know Him more:
Even Paul said he did not know Him, as he should. You do not know somebody unless you stay with him. Hosea 4:6 says God's people perish for lack of knowledge. When you know God in your marriage, it will help you. If you do not know
Him, there will be trouble.
(c) For the love of God to be perfected in our lives:
The more we dwell in God's presence, the more we love Him and the more our love grows for Him. When you stay with Him, you will see His beauty. You will see His compassion and His mercy. The Bible says He has not rewarded us as we deserve(1 John 4:12 and 16).
(d) It is a command:
Jesus commands it in John 15:4 7 and we must obey this command. (Heb. 10:25, Col 3:16)
4.How can we dwell in His presence?
 (a) Through praise and worship:
I will enter His gates with thanksgiving. I will enter His court with praise (Ps. 100:2 & 4; John 4:24.) Jesus said the Father is looking for worshippers in spirit and in truth. When you want to invite Jesus into any meeting, the first thing you must do is to praise and worship Him. In His presence there is fullness of joy.
(b)We must come with clean hands and pure hearts. Psalm 15:1-2:
"LORD, who shall abide in thy tabernacle? who shall dwell in thy holy hill? He that walketh uprightly, and worketh righteousness, and speaketh the truth in his heart."
If there is any misunderstanding between you and your spouse, you must settle it before you come to God(Ps 24:3-4, Ps. 140:13.).
(c) You must come with a humble spirit and a contrite heart. Isaiah 5715:
"For thus saith the high and lofty One that inhabiteth eternity, whose name is Holy; I dwell in the high and holy place, with him also that is of a contrite and humble spirit, to revive the spirit of the humble, and to revive the heart of the contrite ones."
When we are coming into God's presence, we must also come with faith (Heb. 4:16, Heb 11:1 & 6.)
(d) You must study the word (Col. 3:16; 2 Tim. 2:15).
Many men are higher than their wives are spiritual. There is a danger if your wife is not on the same spiritual level with you. God forbid, but the day you fall, you will fall very badly. However, when you are at the same level with your wife or she is slightly lower than you, when Satan wants to attack you or make nonsense of your ministry, your wife is able to stabilize you.
5.The blessings of His presence
(a)Fullness of Joy Ps. 16:11.
(b)Pleasures for evermore – Ps. 16:11
(c) Glory and Honour 1 Chron. 16:27
(d) Strength and gladness –1 Chr. 16:27; Ps. 22:1.
(e) Protection and Security – Ps. 91:1; Rom. 8:31; Col 3:3
(f) Rest of mind, rest of body, rest of spirit Ex. 33:14
(g) Courage in the battles of life – Deut. 20:1
(h) Assurance to the end Mt.28:2
(i) Assurance from the Lord.
He says where two or three are gathered in His Name He
is there in their midst. A husband and wife is the smallest church as they live together in the Name of the Lord. God is there with them and He will never leave us in Jesus' Name.
ALSO, READ MY TIMES ARE IN HIS HAND-FOR SINGLES