How to Manage Your Divorce Legally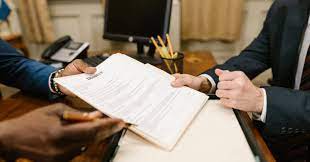 Last Updated on October 7, 2022 by Joshua Isibor
A divorce is an exhausting process. Whether you and your partner have been together for just a few months or for years, ending a relationship drains you mentally and physically. It requires a lot of various considerations. From financial discussions to child custody; a divorce requires patience to get through properly.
Divorce is a complex process that can have significant implications for your life and the lives of those around you. Whether you are considering divorce or have already begun the process, it is essential to legally manage your divorce to protect your rights and interests throughout this challenging time. One effective way to do this is through divorce mediation, a form of negotiation where both parties work directly with an experienced mediator to come to a mutually agreeable divorce settlement.
This way, the conflict between spouses can be reduced while ensuring that all essential legal and financial matters are addressed during the divorce process. Furthermore, mediation can save money, time, and stress compared with other approaches like litigation or arbitration, making it an ideal choice for anyone navigating the complexities of divorce.
A divorce lawyer definitely makes the transition and entire process easier and smoother. However, planning it all on your own is also important. It is a thoughtful decision and must be made on a strong basis.
Therefore, we have summed up a brief guide that will help you plan and manage your divorce in the right way.
Tips to Manage your Divorce Legally
Navigating the divorce process and coming to a mutual decision with your partner is important to ensure that the divorce is carried out smoothly. If your partner is being problematic or is violent, it is best for you to approach the court and divorce lawyer directly.
1.Discuss it with your Spouse
If you have not discussed it with your partner, it is best if you put out this thought in front of him or her first. It is your decision when and how you want to initiate this conversation. Some partners discuss the issues and resolve them, reflecting that divorce might not be the best idea for them. This is why discussing it once with your partner is crucial. Elsewise, as mentioned above, if your spouse is violent or facing a very harsh marriage, you can approach a divorce lawyer directly.
2.Get the Legal Support
Divorce is a messy procedure and getting the right legal support is critical. It is extremely rare to experience a smooth divorce, handled on a mutual basis between two partners. Just like your emotional support system is crucial; getting the right support from your lawyer is also important. You have to make sure that you hire the best attorney that specializes in managing divorces. Do your research to make a well-informed decision about hiring the right man for the job. Remember, a lawyer will make the process easier and quicker for you.
3.Make Decisions for your Kids
If you have children, making the right decisions is very important. Divorce has a huge mental and emotional impact on kids and it is your responsibility to manage it as smoothly as possible. You can also discuss the details with the family attorney to help you make the right decisions for them. From child custody to child support, a lot needs to be sorted out before you and your partner part ways.
4.Keep your Legal Documents Safe
Many times, people tend to be careless about their paperwork. This is not the right way to handle a legal process. It is important to keep all paperwork and documents compiled in a binder. From your marriage documents to tax returns and from your business documents to any real estate papers; compile everything together that your lawyer tells you to. If you are having trouble with any document, your attorney will help you in this regard as well.
CONCLUSION
Divorce can take up to 12 months easily. It requires patience and time to handle the process legally. Hiring the right divorce lawyer will help you manage it in a much better way. Therefore, it is best recommended that you do not try to take it all under your control. Court procedures can be time-consuming and quite confusing to handle. An attorney knows the best and will bring the wanted outcome for you as well.
ALSO, READ 6 reasons why family and friends don't support you