How to Plan the Best Romantic Dinner for Your Partner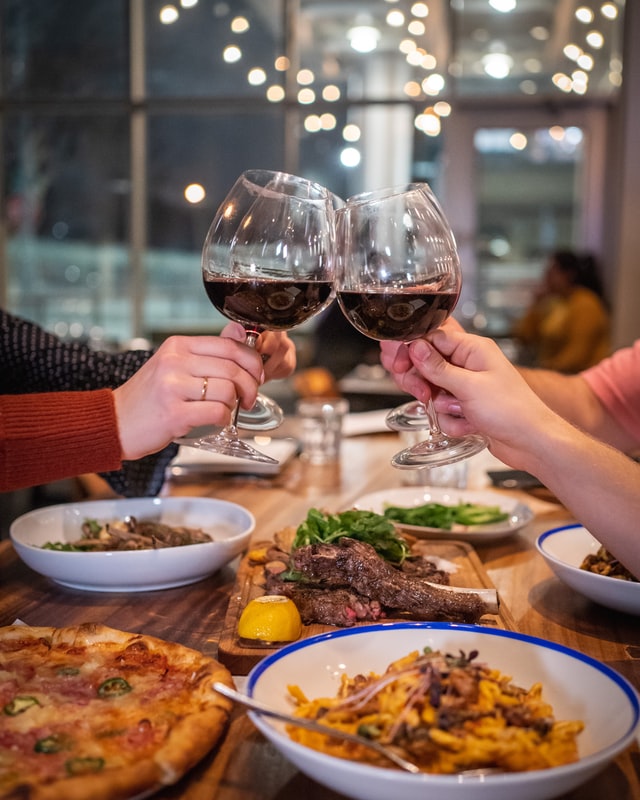 Last Updated on August 31, 2022 by Joshua Isibor
A romantic dinner adds intimacy to a relationship. Albeit it isn't everything, it spices things up and keeps the excitement going.
While you can book a restaurant for that perfect evening date, you can celebrate with your beau in the solitude of your home and still have the best time ever. In this post, we're giving you some tips on how to put together a romantic dinner for your partner. So read on–and prepare to get love-struck!  
Planning the Perfect Dinner: 12 Tips to Ace That Date
1. Set a schedule
Plan your romantic dinner on an evening you and your partner won't have any other commitments. Not only will this give you the time you need, but it will also prevent distractions from getting in the way of your moment.
To add a little excitement, try sending your other half an invitation card–not necessarily the formal one; a handwritten message is sweet enough. For ladies, you can leave it on your man's pillow or his car's dashboard. For men, there's nothing more charming than a bouquet of flowers with a note accompanying it.
2. Consider your partner's preferences
Once you've confirmed the date for your romantic dinner, it's time to plan the menu. Be mindful of your partner's dietary preferences and restrictions. Are there dishes to steer away from? What are their food allergies? Paying attention to these specifics is a great way to show how much you care about them.
It's also important that you consider whether or not your fresh ingredients are in season, as it can affect how you'll be able to source the necessary items on your list. In addition, it matters that you and your partner are on the same page regarding food preparation methods.
3. Choose the recipe
A three-course meal of soup or salad, main dish, and dessert is ideal for a dinner date. Choose favorite foods that you know you and your partner will enjoy. Opt for elegant yet simple and familiar recipes–maybe a platter you both have fond memories of eating. Thoughtfulness goes a long way in keeping things fun and memorable.
The appetizer is meant to stimulate the appetite and cleanse the palate. So, it should be light and acidic to contrast the savory dish to follow. It's usually vegetarian because the meat will be the star of the next course.
Meanwhile, if you're on the warm side of things, soup is a great starter. Vegetable and broth-based soups are an excellent choice, as they're scrumptious and healthy at the same time.
The main course is the highlight of the night. It should be delicious, sophisticated, and fulfilling. You can choose between a braised fish or meat as the star ingredient.
Your dessert should not be too heavy–you don't want to induce a food coma. But it should be hands-on, so you and your date can share a new intimate experience. You might want to make it a bit theatrical, too, so it can stimulate further conversation.
When in doubt, ask your partner what types of drinks they prefer. Do they fancy a digestif? Or are they big on wine?
If they prefer wine, take things to the next level by brewing wine at home. This may sound like a lot of work, but it's actually not that hard to make your own wine. Apart from adding more points to your romantic scoreboard, it's a statement that you're putting in some serious effort into your relationship.
4. Experiment a little
In planning the evening course, consider trying out a new flavor, but without risking the quality of the finished meal. Be sure to choose a recipe with ingredients and preparation techniques you're familiar with.
If searing the perfect steak is your turf, try using new spices or marinades that add a unique taste. If you're more experienced in baking, elevate things a little by adding some personal touch to your partner's favorite recipe. They'll be thanking you later for your thoughtfulness.
But if the kitchen isn't your natural habitat, you can order the dishes from restaurants you and your partner both prefer. Make sure the meals get delivered earlier to give you time to curate them into sumptuous platters.
5. Decorate the table
The dinner table is the main stage for the evening's occasion. Cover it with nice linen and place floating candles for an added charm. Lay your best dinnerware and make sure the napkins are beautifully folded. And if you're feeling a little creative, sprinkle some red petals for that ultimate romantic vibe.
6. Light the entrance
The candles need not adorn only the dinner table–you can light some in the entrance of your home, too! These tiny lighters create an inviting and relaxing atmosphere. So, what better way to amp up the excitement than by strategically placing these lovely lanterns in your doorway?
7. Adopt the no-tech dinner rule
When the waiting is over and the day has come, make sure the evening is well-spent. It helps to adopt the no-tech dinner rule so that nothing will distract you from focusing on your date. Try to keep your devices off or put them out of sight.
Keep in mind that the dinner is about appending precious time between you and your partner. Your goal should be to enrich your relationship through a tailored experience. Aim to keep the focus on the two of you to make the moment one for the books.
8. Put on some music
Music is always an amazing addition to a date night, as it can help set the mood for the evening. Keep the romantic vibe going by putting on some soft tunes in the background. If you have a favorite song as a couple, play it. Or if your partner likes a particular album, spin it–it'll make the moment more special.
ALSO, READ 10 effective tips to have a successful first date
9. Dim the lights
Dim lighting is a hallmark of romantic dining. Tinker with the different configurations of dimness in your place, but avoid making it look too suggestive. You can also try hanging some string lights to create that "under the stars" effect. Your date will be in awe of the stunning strands of sparkling mini-lights.
10. Keep some DVDs handy
Keep some romantic film DVDs handy, so you'll have something to watch post-dinner. Or, if you want, web series on your laptop. According to a study reported by TIME magazine, that couples who watch lovey-dovey movies together and then talked about them had lower separation rates than those who didn't. That's right, so don't forget to pick a few feel-good flicks before your scheduled date.
11. Dress yourself up
You and your partner will be staring at each other for the entire duration of your dinner date. So, use the chance to be in your best shape and appearance. Dress up in an outfit you're comfortable in and choose pieces that make you feel confident. There's no better sight than someone who looks poised and cozy at the same time.
12. Have fun
You organized the date so that you and your partner can bask in each other's company. If you're both enjoying the moment, then you have achieved the goal. The delightful, romantic experience is what makes the occasion a success.
Some Reminders to Make Your Dinner Date Extra Special
You can clear your sink without spoiling the momentum of the evening. How? Do it as a team–sharing the workload will get the work done faster. Plus, it's a nice way to add variety to your bonding moment.
But if you prefer not to do the dishes at that moment, stack them neatly beside the sink and get back on them the following day.
Pull surprises successfully
Surprises are great only if you're certain that your partner likes them. If you're convinced that it will proceed well, then take the plunge. Otherwise, it's not worth the risk because it might ruin the whole thing.
Candles and flowers are must-have decors for the date night table. In choosing which ones to use, avoid those with a strong scent–you don't want to overpower the food. But if you decide to place some in the rest of the house, scented ones are fine.
If you have kids, get a family member to look after them
The dinner date is about you and your partner as a couple. If you have kids, try to get a family member to look after them for the evening. This way, you can spend a romantic time together without having to worry about your children.
During your conversations, avoid talking about anything that could ruin the mood such as work problems, family dramas, or vices like smoking and excessive drinking. On the other hand, it's always good to bring up fond memories or plans you may have in mind. Keep it positive, so if you're annoyed at something or someone, save it for another time.
Enjoy the Moment and Have Fun
Organizing a dinner date for your partner may require a lot of work, but it's the effort that makes it extra special. They'll appreciate you more if they learn that you've prepared for the occasion.
When planning the event, remember that the goal is to enjoy each other's company. This is what makes a DIY dining experience charming and truly memorable.
Here's my Author Bio:
Daisy Oliveira
Assistant Marketing Manager
Daisy is the Assistant Marketing Manager of Danny's Wine & Beer — a wine and beer supplies company, committed to being one of Ontario's leaders in providing an unbeatable wine and beer making experience. With Daisy's passion for working with people, she maintains excellent client relationships and assures their customers have the best possible experience. In her spare time, she likes to travel with friends, exploring as many countries and cultures as she can.
ALSO, READ Heart Melting Paragraphs For Her To Make Her Cry Copy and Paste