Why do people put up custom tapestries?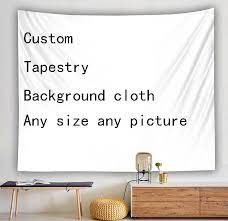 Last Updated on June 5, 2022 by Joshua Isibor
A custom tapestry is made specifically for you or your event. A professional designer creates the design and then prints it onto fabric. The result is a beautiful piece of art that adds elegance to any room.
With a custom tapestry you can create a unique space that reflects who you are and your personality. A personalized tapestry has endless possibilities. For example, you can create a tapestry showing your family history, a tapestry featuring your favorite movie character, a tapestry celebrating a special occasion, and even a customized tapestry inspired by your love of sports. 
They come in various shapes, sizes and colors. These can range from abstract to highly detailed patterns. Choose wisely and enjoy the benefits of having a customized wall tapestry. With a good quality photo and proper layout skills, they make an ideal gift for yourself to brighten up your home.
6 reasons you should invest in custom tapestries 
It makes the thin walls soundproof. 
Wall tapestries are widely used in buildings and houses with poor insulation, such as office rooms, to provide soundproofing. The narrow walls get to be a bit thicker by putting tapestries on them, which reduces sound transmission between them. This suggests that perhaps the tapestries help to reduce noise.
Opportunity to choose from myriad colours, designs, and shapes 
Another reason to buy the tapestry is that you can find them in almost any pattern, colour, or form. High-quality decorative wall tapestry retailers can help you select or develop a piece that expresses your distinct personality. Do you have any specific designs or trademarks in mind for a wall tapestry? It's simple to turn anyone of your concepts into wall decor with a bespoke tapestry.
It makes the space relaxed and tranquil. 
Adding colours, patterns, and decorations that bring you a sense of peace is among the simplest methods to make your house more pleasant. When you begin searching for tapestries and buying them, you will see that they are plentiful. It's tempting to pick one of the first few you stumble across, but it's equally important to consider all of your possibilities. It's essential to take your time when choosing the tapestry since it would be something you'll see every day.
They are timeless.
Many people assume that tapestries are expensive because of the work involved in creating them. However, many tapestries don't require much creative skill and can still be quite affordable. Even if you're not skilled with needlework, you could hire someone to do the work for you. Some tapestries can last for centuries, so if you'd rather save money instead of spending more on something that will fall apart after only a few years, tapestries are the way to go.
They can easily fit into almost any décor style.
There really aren't any limits when it comes to where you can place your tapestry. Whether you want to use it over a fireplace, near a window, in the kitchen or even in the bathroom, the possibilities are truly unlimited. And since you are paying less than most other décor items, you can afford to try different placements without breaking the bank!
They are easy to clean and maintain
Since tapestries are made out of wool, cotton and rugs, they are naturally stain-resistant and easy to clean. This means that you won't need to worry about buying cleaning supplies. If spills occur, just wipe them off and let them dry before wiping them down again.
They are aesthetically pleasing.
Many people who own tapestries choose to display them in areas where they cannot be removed because of the artwork itself. This increases its overall appeal. People love looking at things displayed in places such as their living room or bedroom. In addition, they increase the aesthetic appeal of the room itself by making it feel warmer and inviting.
The Bottom Line 
Wall tapestries are beautiful pieces of art that come in various colors, patterns and styles. They're usually hung above doorways or windows as accents to homes or offices. These unique decorations add beauty to spaces and bring warmth to rooms.
Tapestry wall hangings are incredibly versatile home decor items. They come in various lengths, shapes, sizes, materials and colours. They're also very durable, lasting hundreds of years.