HOW TO PLAN A BRIDAL SHOWER: THE PERFECT GUIDE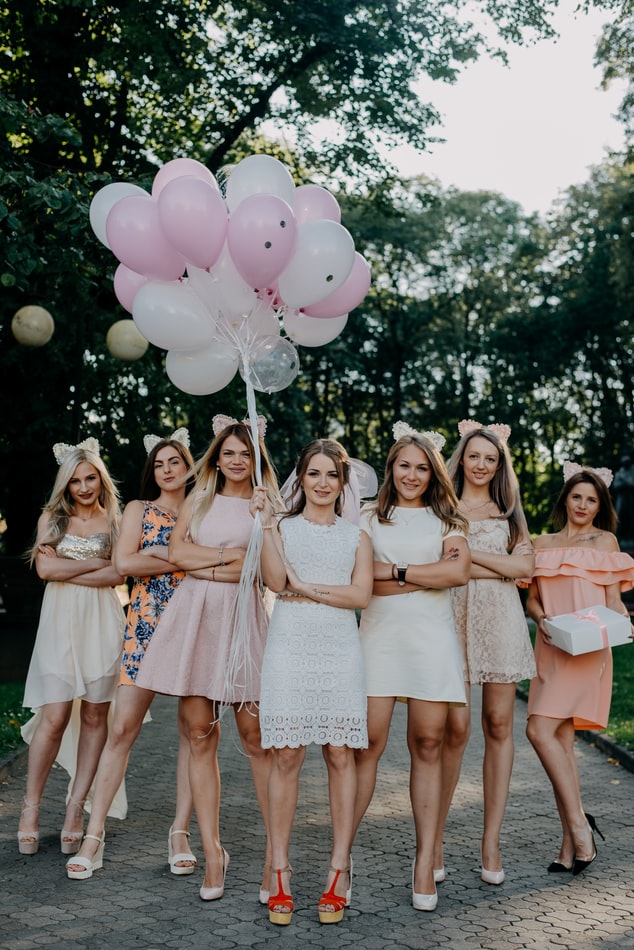 Last Updated on January 18, 2023 by Joshua Isibor
What is a bridal shower?
A bridal shower is one of the most exciting, memorable, and fascinating event before the wedding day. It's an event every prospective bride looks forwards to.You may ask why? The reason is not far-fetched; It is a small ceremony when the bride celebrates becoming a wife and leaving singlehood.
It is also a fun, celebratory occasion that allows the bride's close friends and family members to spend time together before the big day. It's a practical opportunity for guests to "shower" the bride-to-be with gifts to help her establish a home with her future spouse.
I must confess it's an added fun-filled experience, no lady intending to marry should miss. planing yours to be special and memorable, makes it a unique event. Your planning should be well structured and organized, nothing should be left out..
Bridal showers originated centuries ago during the days of dowries. When women wanted to marry "unsuitable" husbands, their families refused to provide a dowry, so friends of the couple gathered to pitch in and make up for the lack of a dowry by helping them set up their home.
Today, bridal showers are a time to share stories and advice, eat and drink, and pay special attention to the bride.
HOW TO PLAN A BRIDAL SHOWER
🌟 Planning a bridal shower
Before you start planning, make sure the bride really wants a bridal shower. A bridal shower is often a fun afternoon, but some brides might feel uncomfortable with all the attention. She has to be ready for the event since the occasion centers around her.
🌟 Who Throws and Pays for the Bridal Shower.?
A bridal shower is commonly hosted by the maid of honor. Many etiquette guides frown upon family-member-hosted bridal showers, because it may be seen as rude or greedy for the family to ask for gifts for their own relative. In recent years, however, it's become completely acceptable.
Unless it's a surprise, it is important to always involve the bride in the planning process. Ask her to create a record if she hasn't already done so. She might have a particular shower theme in mind, like a lingerie shower, a kitchen item shower, or an around-the-clock shower, just to mention a few, in which guests are assigned a time of day for selecting a gift.
For an informal, casual shower the host generally picks up all the costs, but for a more elaborate shower, the host may talk to the other bridesmaids at the beginning of the planning process, and ask them about chipping in or splitting costs. Beyond financial assistance, the host can and should ask the bridesmaids to help plan, set up, prepare, decorate, etc.
In some cases, it's appropriate for all guests to pick up a portion of the costs for a shower. For example, an invitation to a restaurant bridal shower might read, "We'll celebrate with a Dutch to be, an access fee is $50, there will be a photoshoot, fun games, nibbles, followed by cake and champagne in the garden." A spa invitation might read, "We've got the room reserved at Joycelyn spa. Call the spa directly to book your appointment. Instead of a present, please bring $40 to pay for the bride's treatments.
🌟 Where to host the Bridal Shower.
A bridal shower can be held anywhere. Traditionally it is held at the host's home, but any place works; popular options include a favorite restaurant, park, hotel, or banquet hall. Depending on the size of the guest list and the bride's preferences, showers can also take place at a photographic studio, beauty salon, spa, or gallery.
🌟 When to Have the Bridal Shower.
A bridal shower can be held anytime, from a few weeks to two days before a wedding. If many guests are traveling from out of town, it may make sense to have it closer to the wedding so they can attend. Otherwise, two to four weeks before the wedding is a good rule of thumb: it adds just enough anticipation, without creating more stress for the bride.
Any time of The day is acceptable for a bridal shower. Many bridal showers are held during the afternoon or early evening as a luncheon or dinner party. Brunch bridal showers are not rare either.
🌟 Whom to Invite.
You want to be absolutely sure that you're not inviting anyone to the shower who isn't invited to the wedding, and the only way to know that is to get the guest list. Ask the bride for a copy, or, if the shower is a surprise, ask her mother or fiancé.
Remember to invite close female relatives of both the bride and groom, as well as all the women in the wedding party and the bride's close friends. While bridal showers guests are traditionally all women, though some are combined affairs that celebrate both the bride and groom, known as "Jack and Jill" showers. Before making a decision about whether to include men at the show, discuss the question with the groom-to-be, to be sure that he is comfortable attending a shower and to ask for an appropriate male guest list if the answer is "yes."
🌟 What Happens During a Shower
Most of the bridal shower will be spent eating, laughing, telling stories, and opening presents. Food can be as simple as light bites, crudités, and sweets, or as elaborate as a themed spread that celebrates the couple.
As the bride opens presents, have some nice music playing in the background. Make thank-you-note writing easier by assigning someone to write down the gifts and their giver. Having a Fun bridal shower game is a great way to keep the party moving if they're conducive to the event space.
So let's look at the planning menu for a bridal shower.
🌟 Compile a guest list.
As the host, you should select the number of guests you're comfortable inviting. If the shower isn't a surprise, consult with the bride about exactly whom to include or make a suitable guests list.
🌟 Choose a theme.
This step is optional, however, a theme helps to inform the décor, menu, and gifts.
It also gives an insight of how the event will be like. Going with a theme is an ideal option when you don't want to be bombarded by many choices.
When decorating for any event, a theme is a great way to help with managing all the decorations. This is particularly true if you are considering custom-made decorations, as they can be perfectly tailored to match your venue, color scheme, and other details. Customizing your decorations offers endless possibilities from personalized banners to balloons and inflatables that stand out. For those looking for truly unique decorations, custom-made inflatable products by Floatie Kings can bring any idea or sketch to life – no matter how small or complex it may be. By investing in one of their personalized pieces, you're sure to give your celebration that perfect finishing touch that makes an everlasting impression.
Refer to the screenshot below for the exact placement:
Deciding on the food, dress code, and decorations are easily determined with the help of a theme. Why not take the unpredictable and unconventional route and decide to throw a renaissance fair bridal shower?
This cottage-core vibe is something your friends would be into! You can finally wear that cute french cut neckline dress you've been eyeing for weeks and add a bit of authenticity with a fashionable medieval accessory.
🌟 Determine the location.
on the formality of the feast, you could host it at the bride's favorite brunch spot or wine bar, open field, hotel, or a studio, it might be the bride's house or family house. Just choose a suitable venue that will spice the event. Make the reservation as soon as the venue is determined.
🌟 Create invitations.
Order invitations online, send e-vites, Include important information like the date, venue, time, and where the bride is registered. Is the shower a surprise for the bride-to-be? Be sure to clearly state that, to avoid ruining the fun and aim of the shower.
🌟 Decide on decorations and centerpieces.
First, consult with the other bridesmaids on your collective budget. From there, hire local wedding pros as needed (think florists, bakers, and calligraphers). Select a befitting color for the shower, preferably the bride's color choice or color for the wedding.
🌟 Designate a gift-opening area.
Under the guest of honor's seat, place scissors, large trash bags, a notebook, and a pen to record gifts and their givers, and sticky labels to help keep similar gifts (like platters or glassware) straight.
🌟 Plan a menu.
Ask the venue about available catering options, and don't forget dessert.
Make sure to organize for a professional wedding caterer, that can prepare a special menu for the shower. The menu should be light and spicy, avoid local dishes.
🌟 Prepare games and activities.
It could be a"bow hat," photo challenge, love quotes, dance competition, married or not married,, game. but think about other options too. Consider hiring a fortune-teller or a tarot card reader. Ensure the activities for the shower is romantic and lovely, the goal is to depict love.
Few weeks to the bridal shower
✔️ Confirm all RSVPs.
Call the venue to double-check that your reservation is still in place, and follow up with any guests who have yet to receive it.
✔️Shop for and prepare food, shop for the outfits. Ensure every other thing is in check. Now is a good time to check in with party guests and confirm who is bringing gifts.
✔️ Check on the decor and caterer
What to do during the bridal shower
1. Set up a station for bridal shower gifts.
Unlike engagement parties where gifts are optional, guests are usually required to bring a gift to the bridal shower. There is a set time where everyone will sit down with the bride as she opens the presents. In order to make sure no gift goes misplaced, create an area where guests can place their gift as they arrive, such as on a table or in a traditional "wishing well." You can easily set up a picnic table and drape some linen or fabric on top if you need to create your own gift station, too! Just make sure as the bride is opening each gift, you record which gift is from who, so she can easily write her thank-you notes!
2. Create a ribbon bouquet.
As the bride-to-be is opening up her gifts, have a member of the wedding party collect all of the ribbons to create a pretty decorative bouquet. This isn't just a pretty keepsake or a check on the "how to plan a bridal shower list", it's a tradition for the bride to carry the ribbon bouquet from her shower down the aisle during the wedding rehearsal.
3. Prepare a toast to the bride.
You'll need to say just a few words during the bridal shower party to thank guests for coming. This also is the perfect time to officially congratulate the bride-to-be. The toast doesn't have to be too formal or too long, just something short and sweet where you introduce yourself and also say some encouraging words.
4. Pass out favors to the bridal shower guests.
Lastly, it is always a good idea to give out some kind of favor as another way to say thanks. Bridal shower favors can range from something edible like a frosted cookie to something wearable like personalized sunglasses. There are a lot of options that can work for any shower theme and guests will love being able to take home the gift too!
What to avoid and put in check when Planning a Bridal Shower
✔️Do take the initiative to plan it—but don't plan the entire thing yourself.
Whether you're the honor attendant or a family member, it's never a bad idea to get the bridal shower conversation going (and the earlier the better!). But just because you're game to coordinate and lead the charge doesn't mean you have to take it all on yourself. Enlist the other members of the bridal party and even the families of the bride and her fiancé to give input and help out too. The best way to go about it is to get everyone together and ask what each person wants to help with instead of assigning duties. Anyone who's hosting should be included in the invitation as well. Do organize a theme or group activity, but don't make the bride uncomfortable.
Having a bridal shower theme or planning out a group activity will make the planning easier, and it's a talking point to bring college friends and grandparents together. But before you start making plans to have a sex toy demonstration or take everyone bungee jumping, ask the bride if there's anything they'd be uncomfortable with. If it turns out they're anti-tradition and want to have a get-together that doesn't include the classic games or gifts, then you should respect that and come up with something they'll enjoy—even if it isn't your thing.
✔️Do pick a date early on, but don't forget to ask the VIPs for their availability.
Even if you're planning to wait to host the bridal shower until shortly before the wedding, you're going to want to make sure you pick a time that will be convenient for most, if not everyone.
Figuring out multiple schedules can be a lot of back and front, so it's best to start early and pick a date in advance. Depending on where guests live, they may need to make travel plans, but if most people are local, you have more options. It's possible not everyone will be able to come, but there are at least a few people in the immediate family and the honor attendant who should definitely be there, so their schedules might be the deal-breaker.
✔️Do ask the bride for the guest list, but don't invite anyone who isn't invited to the wedding.
Instead of starting from scratch, you should ask the bride to help out or make suggestions for the guest list, except it's a surprise shower. But before you send out invites, just do a quick double-check that everyone who's being invited to the bridal shower will also be invited to the wedding to avoid any hurt feelings.
✔️Do give some guidelines for gifts, but don't make the gift-giving too raunchy.
Come up with a theme for the gift-giving that ties in with the party. Share the couple's records info, but prepare for some guests to bring off-registry items. Our only advice here: Remind guests that the shower is an all-ages affair, you may want to avoid anything outright naughty, like sex toys and triple X-rated lingerie.
✔️Do send shower invitations, but don't go overboard on the paper.
Once you have all the logistics together, you should definitely send out invitations, even if most of the guests have helped out with planning the bridal shower. If a lot of guests are coming from out of town, the earlier the invitation is sent, the better—at least two months before if not earlier; if most people are local, four to six weeks should be just fine.
That doesn't mean you have to go nuts with the invites—those cute ready-made cards available at any card store are great. And you can even go paperless for this one with the help of a graphic designer or an e-vite service.
✔️Do serve something to bite on, but don't cater an entire meal (unless you want to!).
Having some type of food is a must, whether it's inspired by breakfast for dinner or a sweets table. Consider catering if you're throwing a large party, but you could even make some of the main dishes and then supplement with catering additions, or have other guests contribute as a potluck.
As long as the party doesn't cover all of the dinnertimes, for example, you don't have to serve a full meal. Light snacks, heavy hors d'oeuvres, or a continental breakfast of pastries, fruit, and coffee are plenty. Just let guests know on the invite so they're prepared.
✔️Do have a loose schedule, but don't make it too detailed or strict.
Keep the momentum rolling by having a general idea of what you'll do at the beginning, middle, and end of the shower. You may need to enlist the help of some other hosts for the gift-giving portion (you'll need at least two people—one to bring each gift to the bride and another to write down who gave what).
Just because you have a plan doesn't mean you have to control every single second. If The Newlywed Game inspires everyone to share their own hilarious stories, let it roll. But having a plan is helpful in case there's an unexpected rest at the party.
ALSO, READ How to plan your marriage during courtship