How to Start Conversation With A Guy (Easy Way Out)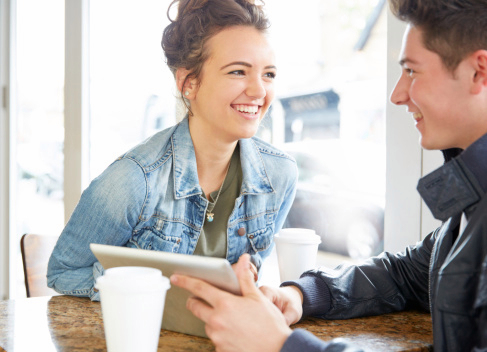 Last Updated on February 7, 2022 by Joshua Isibor
How to start a conversation? This is a lot of question a lot of ladies struggle with. When it comes to their family, friends, co-workers they are professionals, and conversations flow smoothly but if it involves a guy they have a crush on, they become tongue-tied.
Starting a conversation beautifully might be the spark you need to start up a relationship with a guy. You must make sure to make it engaging and enjoyable.
Here are tips on how you can improve and become a good conversationist both in person and over text.
How to start a Conversation With a Guy for the First Time Face to Face
Of course, any man will tell you that a nice smile, eye contact, and confidence are the essential things to get him interested but sometimes we just need a little help to get things going;
1. OPEN WITH AN INSIDE JOKE
An inside joke is a joke which is understandable to only members of a particular social group, occupation,e.t.c. So, by doing this, it is an indication that there is something intimate and personal to both of you.
Making jest of each other about a celebrity crush or about an embarrassing incident are two good examples. This is a great way of starting a conversation as long as no feelings are hurt because very few people can talk about the same thing.
2. LEAD WITH QUESTIONS
Many conversations end before they can even begin especially if they start with uninteresting phrases like "Hi" "Hey" "Sup" "What are you up to?". These kinds of questions have few responses that can keep the other person engaged or keep the conversation going.
You can engage by asking"What fun things did you do this festive period?" "As an influencer, how did you react to the lifting of the ban on Twitter?" At the very least, it shows you are willing to listen and have a primary interest in what he is up to.
3. FOLLOW UP ON SOMETHING YOU SPOKE ABOUT EARLIER
Starting a conversation with a guy from where you left off is excellent. Of course, we don't mean going back to some long-forgotten topics. But you can make a lot of progress by starting your conversation with something like "Oh, did you later meet up with that client? I'm sure you got the contract". This will ensure that the conversation continues and show that you are a good listener with a retentive memory.
4. SHARE A PICTURE
Like the popular phrase goes "a picture is way thousand words". One of you or just you can be a great conversation starter. It could be a crazy hairstyle or kitchen disaster but it is sure to spark a funny conversation.
People are more attracted to visual mediums than text, so the possibility of noticing and responding to those is higher.
5. COMPARE HIM TO SOMEONE FAMOUS
Something along the lines of "You look like Ryan Reynolds from Red Notice". Chances are if he has ever heard of him before, he will blush. If he has not, he will still ask you why you think so and probably start thinking about it. Either way, you have made your move.
6. DISCUSS A COMMON FRIEND
You can approach him and ask him how he knows a guy you have met at a friend's party or through a friend. This is sure to open up a whole lot of stories that you two may start discussing.
7. COMMENT ON HIS PHOTOS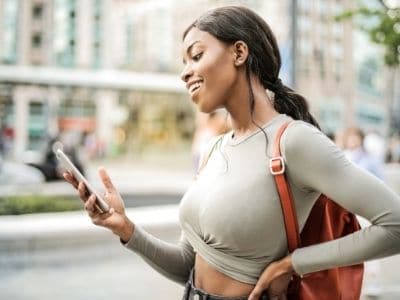 Either Instagram or Facebook, one of the ways to start a conversation with a guy on social media is by commenting on his pictures or even complimenting him a bit.
It must not necessarily be a picture of him. It could be a photo of an event or any other update of his life. You can ask "Where was this picture taken? The scenery is amazing!".
8. KEEP IT CASUAL
When you are talking to a guy initially, keep the conversation fun, simple, and not too serious. Try as much as possible to avoid heavy or uncomfortable topics that may be awkward at that moment. Don't straight up ask him about his problems, struggles, and so on.
9. SAY HIS NAME(IF YOU KNOW IT)
We all love hearing our names. It feels like the person knows us and makes everything much more personal.
This tip works well if the guy is a Barista, Waiter, or sales assistant with his name tag visible.
ALSO, READ 17 Signs He Wants To Be Your Boyfriend
10. BE REAL
Texting may appear to put a barrier between you and the other person. Avoid faking anything, text the way you normally speak. Although it may be tempting to overthink and edit our texts before sending them to bring to the limelight the "best versions" of ourselves, people will place more value on authenticity and honesty in every sphere of life.
11. BE TIME CONSCIOUS
Be mindful of the guy's schedule If you are close to him, and text him accordingly. Trying to start a conversation in the middle of a meeting or when he is driving to work will fail.
Of course, he may return to the messages later, but then the mood and zeal have been lost. Preferably, you should text him when he is available to respond so as to keep the conversation active and engaging for both of you in the present.
12. SHARE AN OLD MEMORY
Nostalgia which is a very powerful emotion can serve as a good starting point for a conversation. If you have known each other for a while, there is a possibility that you will have pictures, memories,e.t.c. You can always say "I can't believe it's two years since we last visited the Orphanage" or " I'm so looking forward to going to the Cinema later with you,I can't believe it's a year ago we saw the first Season of Eternals".
13. PLAY UP YOUR COMMON INTERESTS
" Hey, I saw on your Facebook that you went to the new eatery on Avenue last night! I love that place. Have you tasted their Parfait?". Voila! The instant conversation begins.
In a situation whereby you don't come across a post or an update that suggests a common preference, you can always ask him what his hobbies are and try to see if you two have anything in common.
14. TATTOO TALK
Oftentimes, when people get tattoos they have an interesting story or reason behind them. If the guy has a tattoo, all you have to do is spot it and ask him about it. He would love to tell you his story if you show interest and it is definitely a cute question to ask your crush.
15. HAVE A VARIETY
"Variety is the spice of life". Don't linger on one topic for far too long and keep an eye out for when the spark is dying off. If the conversation is losing its momentum, go into a new topic or ask him a new question.
Guys are just as human as everybody else, starting a conversation with a guy is not rocket science. All your need to do is keep it light, ignite their interest and make it fun. Most importantly, be yourself.
Conclusion
Starting a conversation isn't as stressful as starting a conversation with a girl. When starting a conversation with a girl, you'd start thinking on how to break the ice. Following these simple outlined steps would give you your desired results if you really wanna Have an amazing and eventful Conversation. Also, if you're the shy type, then this article is really for you.
You can share your thoughts in the comment session. Thank You..
ALSO, READ Birthday Wishes, Messages and Quotes for Brother