Heart Touching Love Messages For Husband Copy and Paste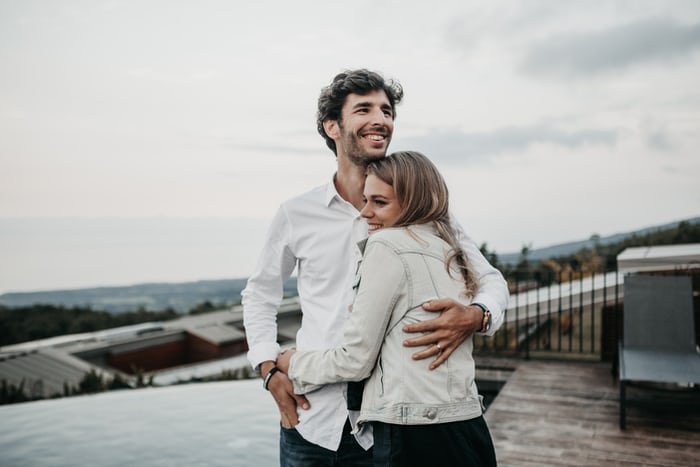 Last Updated on March 15, 2022 by Joshua Isibor
These are Love Messages that You can SEND to your Husband. Many People think that sending such a message isn't necessary as long  you both are living together. but that's a Lie. love is refreshing. One can Never Be tired of Love. You can wake up as early as 4 am to send him that Love Message. Even if He's not the Type that Loves messages, he'll really appreciate, because you've gone beyond the normal.
Sweet and Heartwarming Love Quotes for Your Husband
~if there's going to be a marriage in heaven, I'll gladly accept to marry you, over and over again because you are the only one who can hack my soul. I love you, my husband.
~At first sight, it was love. At the hundredth sight, it was love, and at the thousandth sight, too. True love is falling over and over again in love with the same person. My true love is you.
~Where my husband is, my heart is My husband is where my tale of love starts. Every day is another day in paradise with my husband.
~It would also fail to describe what we share between us in all the words in the world. All I can tell you is to always love me forever in the same way. Hey, I love you.
~In my life, every day begins and ends perfectly. It begins with rolling over to see your face, and in the evening, it ends when you wrap your arms around me. I love being with you more than anything else.
~You don't complete me, because, inside me, I am already complete. This isn't the reason I love you. I love you and together we are far stronger than any of us will ever be apart.
~I didn't marry a provider or a guardian. I married my best friend, the man I love, my most reliable confidant. All these things are you and more.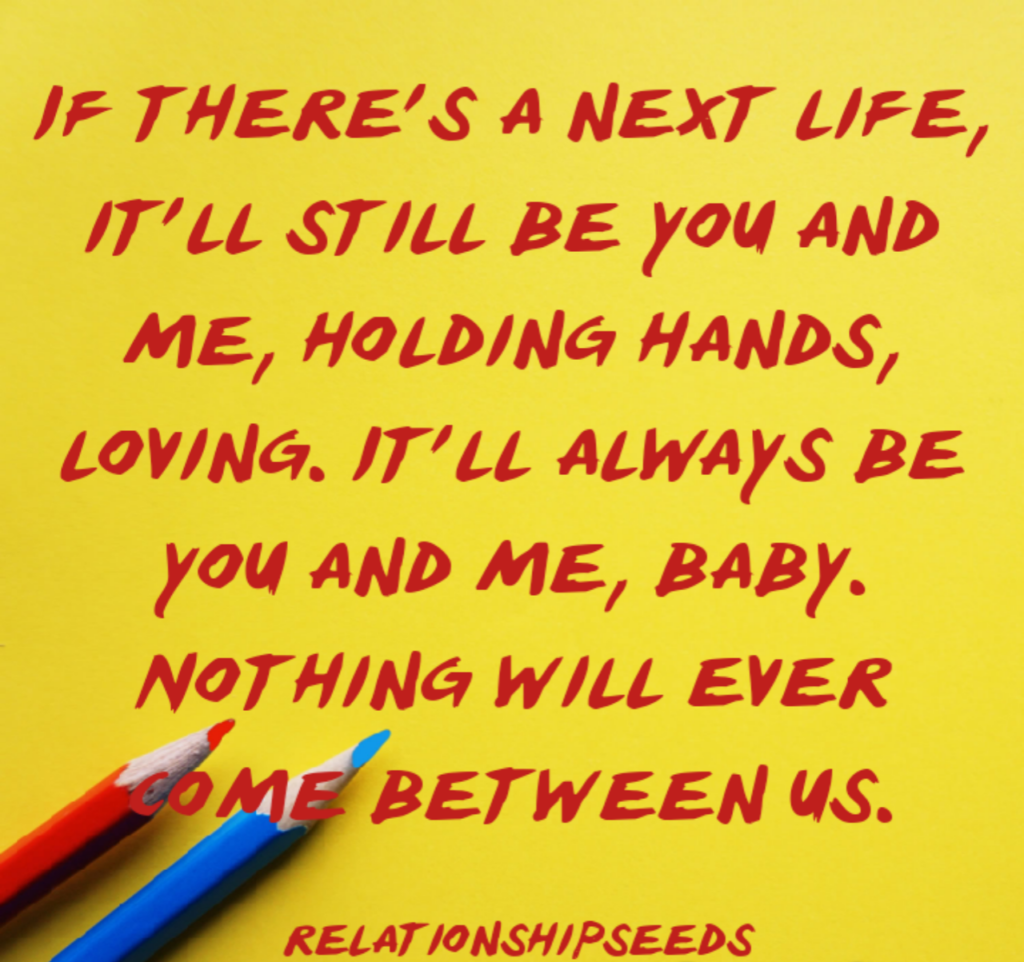 ~Thank you, my darling, for not standing as a representative in front of me nor as a supporter behind me, but as an equal and a lifetime friend beside me.
~Without you being there, all of the treasures and luxuries in the world would mean nothing. The jewel of my life is you. Hey, I love you. Best husband in the universe.
~I love you as high as I can reach, to infinity and beyond, as far as I can see. You are mine, and I am yours, from this day to our final days.
~Your passion for me is imperfect, your loyalty impeccable. My happiness is your only concern; you make me feel so precious. Oh, I love you.
With trust and pride in the love that I have for you my husband, my heart swells.
~My husband, you have shown me what love is and you need to be proud of it.
My love for you carries a crown of pride and sits beside you, as your wife.
~I take pride in my work and it is my best job to love you.
I'm most proud to have loved you.
~You're someone my heart is bound with. My love for you has no form, no boundaries, no borders. Our passion continues but never stops. I value you a lot.
~My root of pleasure is you and your love. Your love makes me strong everywhere I go and encourages me to do my best. We're truly made for each other.
~You're half a part of my heart, and you're half a part of my life, you're the only one who can do anything for me, and you care for me, too, i love you, honey!
~The first love comes and goes, but the guy for whom I want to share the rest of my life is someone I can have and keep lovingly for as long as we both live. I want to be the last one, not the first one.
~Through words, I cannot explain my unconditional love for you. I feel like one of the luckiest wives to have you right next to me.
~You deserve all the love that I will ever earn, and even more. A package of virtue, you are. Forever, I'll cherish you.
ALSO, READ 5 reasons why dating a Married man will lead to Heartbreak
Romantic Love Messages for Husband
~I am thankful for whatever it was that introduced you to my life. You are truly an angel the universe gave to me. I am the luckiest of women to have you alive.
~ You're my Power Rock. My heart trusts you with faith. I feel grateful that you are mine.
You're my Power Rock. My heart trusts you with faith. I feel grateful that you are mine.
~ I enjoy the way you touch me when I care for you the most. You make me feel so special, so meaningful. My heart is yours completely. I respect you a lot.
Our eyes are on me, still burdened with a message. I hear the pounding of my heart in yours. Years of harmony, how perfectly mixed are we. I love you so much, darling.
~In my heart, you're music. The album that's on my tongue. You're the crown to me. You suit so well with me. I love a million times my dear husband.
~ I enjoy the way you touch me when I care for you the most. You make me feel so special, so meaningful. My heart is yours completely. I respect you a lot.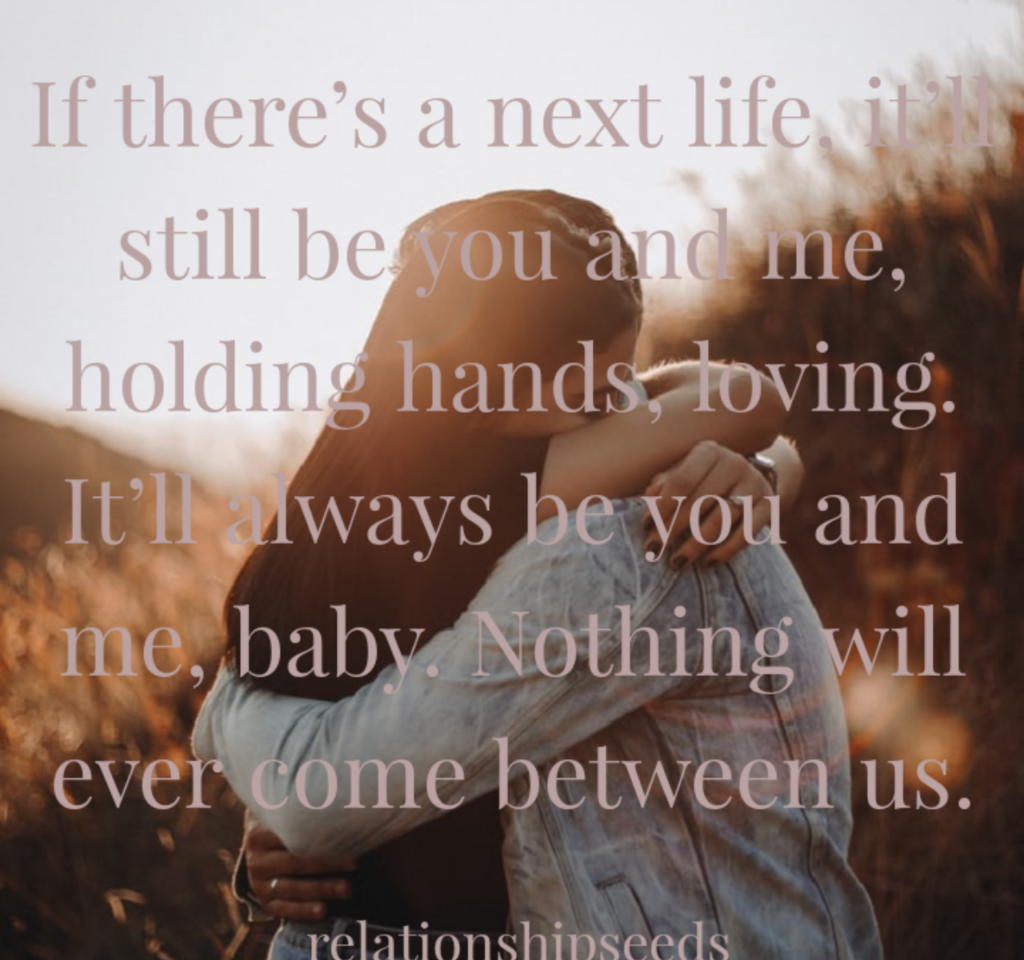 ~Our eyes are on me, still burdened with a message. I hear the pounding of my heart in yours. Years of harmony. I love you so much, darling.
~We are so good. Adapted to perfection. Ours is a passion in which some dream. I'm so happy that we have each other.
~ I've never been able to tire of your charming face. For it, I exist. I will always do my utmost to keep this grin on the baby's face. I do love you.
~If the next life comes, it's always going to be you and me, holding hands, caring. It will always be me and you, baby. Between us, nothing will ever come.
ALSO, READ Birthday Wishes for Brother
~I make our marriage organized, and you make it excellent. I make our marriage practical, and you make it perfect. I'm keeping it grounded. You're giving it wings. Oh, I love you.
~Anything I needed, you gave me. All I wanted to remember, you taught me. When I was down, you helped me with everything. What may I call for more? Seal our love now with a kiss!
~I look at you, and the universe vanishes. When I'm with you, nothing matters.
~In your love, I'm drowning. Lost in the embrace with you. I'll feel the moisture in your chest. You're all that I love, darling, all that I need.
~My heart is at peace with your smile. It does things for me, and it's easier to keep it unprinted. I can't really get enough of you, my hero. love you, husband of LIFE.
~Nothing's more appeals to me than the sight of you……than the warmth of your body next to mine. In a man, you're everything I want. Oh, I love you.
Love Messages for husband from wife
~Every time I see you, my heart does a flip. You succeeded in smashing through the barrier that I put up to guard my spirit. I'm your kid hostage. alwyas  at your service.
All I love is you. I love who you are and the life we share together. I live a life that's entirely about enjoying you. You are the best husband in the world
~When I was down, you made me laugh, lifted me up when I was down, and cheered me off on tough journeys. I am eternally thankful to have, in my life, such a special man. Oh, I love you.
~Saying, "I love you," doesn't feel enough, and doesn't prove it. So, I hope that in your mind, you will still sense it.
~Some think it's an accident to fall in love, but I know I fell in love with you on purpose.
Dear husband, You know, we make an amazing couple, maybe I don't have so many expressions to prove, but, I always love you from my heart, no one will ever divide us, love tons!
~About my idol. The one who is holding my heart's key. My unique boy. You will always captivate me. I so much love you.
ALSO, READ 2021 LOVE CONFESSION TEXT MESSAGES FOR HER OR HIM
In mine, your heart pounds and in yours, mine. Ours is an unending love circle. A chord that's hard to crack. I love you so much, honey.
~I can't get enough of you, ever. The reason my heart sings is you. You're the reason why in my moves there is a bounce. My life is wealthier, and that's because of you. I love you very so much. . . Your body beside mine, the sight of the stars. My heart is tickled by your soft whispers. I'm spell bounded by your love.
~It's a blessing being married to you. Never want to go back without you to the way life was. So much love and warmth are what you offer. I so much love you.
~I will tell you that you are a caring husband, a marvelous father, or a marvelous husband. But you're an example of a perfect man, even more than that I love you, my dear husband.
~Your unspoken words, the smile in your eyes, the manner in which you feel about me tenderly. Who wouldn't love that woman? I am a lucky sweetheart and so fortunate, too. Hey, thank you.
~I have my blessings counted every day. Among them, you are the master. Thank you for so passionately loving me. In every part of me, I sense your affection.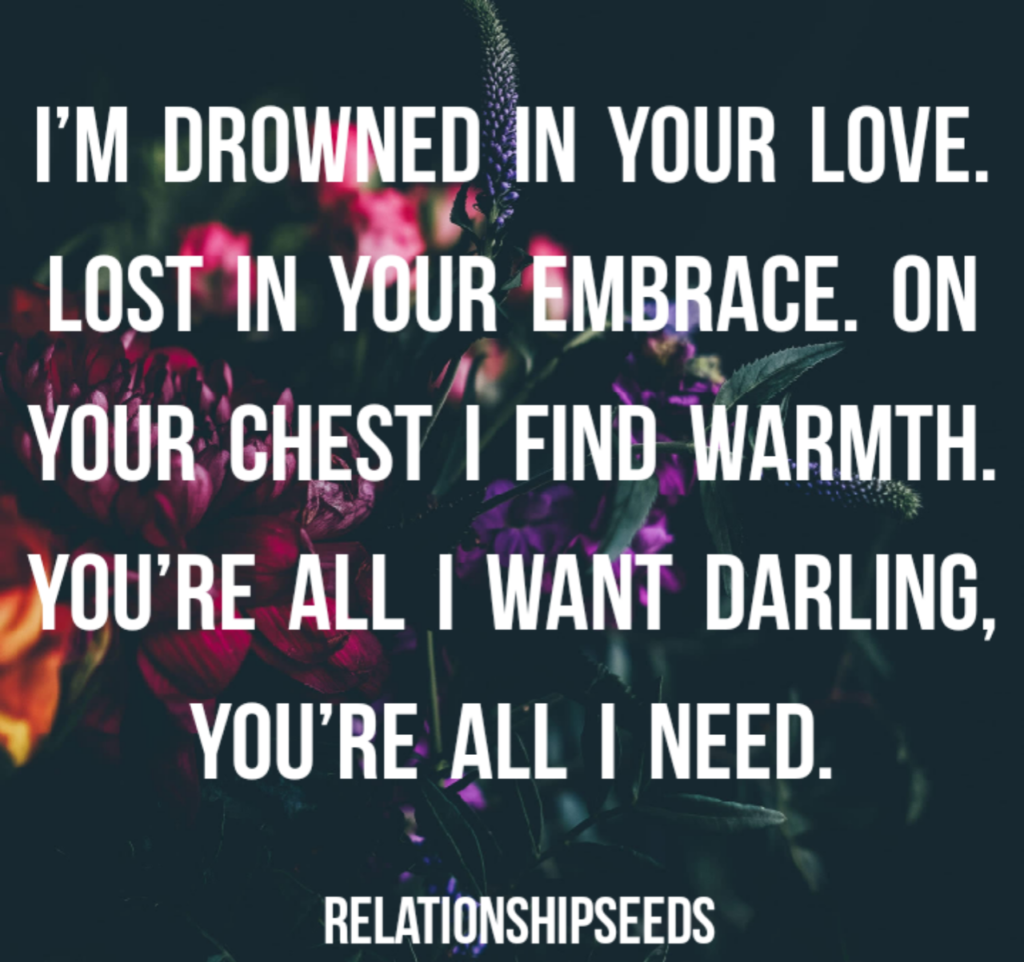 Love Quotes For Husband
~ The strength of my skin, the light of my mind. Each fiber of my being bears witness to your gentle, caring care. One day, I hope that I can express my love half as well as you do. Oh, I love you.
~ I admire you much so. My pulse beats and my body is lit on fire by your sight. I'm on fire because of you, Darling. You truly are the best.
~You are so much more than the knights I heard about in fairy tales in shining armor. On a web, you are more than just words; you are tangible and our love is true. You are special and you are mine to love and treasure alone.
You sure are a one-in-a-million husband, and I couldn't feel like winning the love lottery anymore!
~There is no large enough display case to display my passion for you baby.
Every beat of my heart is yours, every ray of sunshine comes from you, and I breathe for you with every air that I breathe. Oh, I love you!
~"My heart" my husband, is a fountain of love, watering you, so that you may grow and prosper forever.
~In order to love you, my dear husband, I opened my heart, and now it will never close because it is willingly linked to yours. It's filled with love for you, from the bottom of my heart to the top.
My heart bleeds with passion for you and my whole being is fuelled by it.
My love tank is full of your love so that I can drive you with my love.
~I have faith in you, but not because you're my husband. The reason I trust you is that you are the epitome of everything that a man needs to be.
~You have never left my heart since the time our eyes first met. I vowed from the moment we said, 'I do,' that I will always love you and never let go.
~My passion for you is unquantifiable, transcending time and space.
I love you more than I thought it might have been, and that makes me hope that there is more to come.
~I had thoughts of what a husband might be, but you broke those concepts and replaced them with a reality that was beyond my wildest dreams.
~God made husbands to take care of their wives, and this is precisely what you did for me.
may we forever be heart to heart, husband and wife, you and me.AMEN
~Because of you, I'm who I am. We may have our challenges, our stumbles, and our disagreements, but nothing else matters as long as we are still together and love each other, i love you hubby.
~No matter what, you are the only entity I've ever wanted to be with. I love you, dear husband of mine.
~God gave me a lovely present, and he made you mine. In my life, I still thank him for this valuable gift. Love you, my beloved hubby!
~Without you, life would have been a mess. Getting you is like having me with the whole world.
~If life were a sail, when you lead me on a wonderful path, I will keep choosing you as the anchor to hold me in place. I love you really.
~You are a hot cup of coffee in a rainy morning, a warm blanket in the chilly winter, a sunset in the wake of a hurricane, and a sauna at the end of a long week. You are all of my life's affection, ambition, and warmth.
# Wonderful Husband Love Quotes
# Best Husband Love Quotes
#I Love My Husband With All My Heart Quotes
ALSO, READ happy retirement messages and wishes
Originally posted 2021-04-03 09:47:12.