Things to Keep in Mind When Arranging Your First Threesome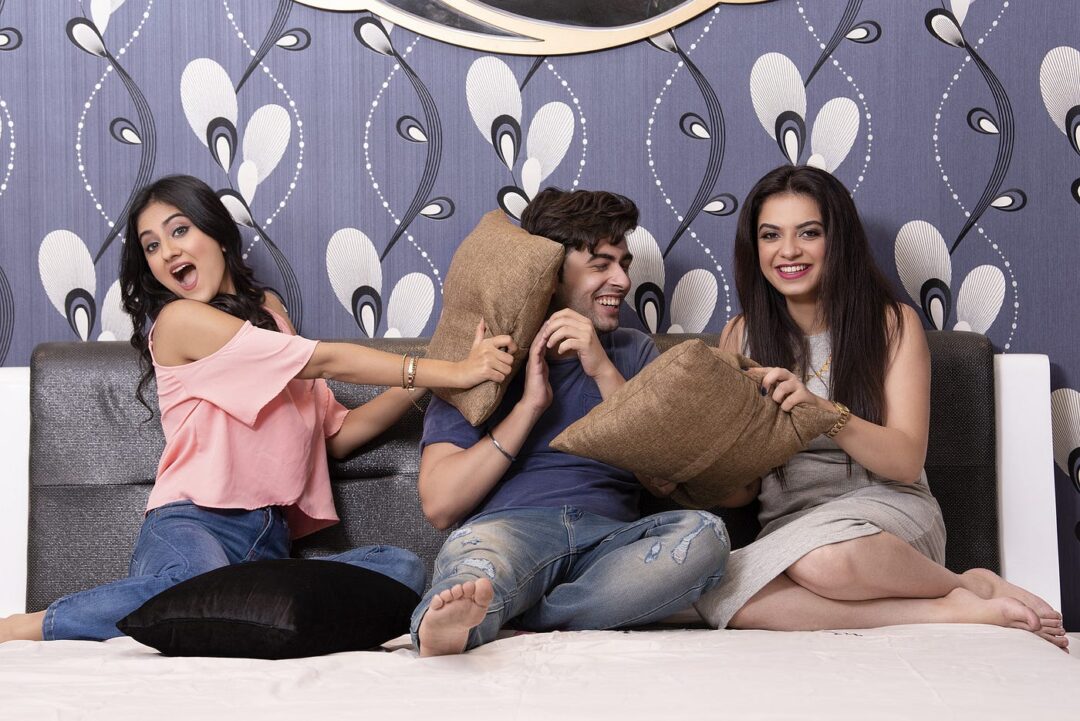 Last Updated on September 25, 2023 by Joshua Isibor
So you're considering inviting someone to join you and your partner in the bedroom?
Nice. Congratulations!
That's a big step for every relationship. And no. It doesn't mean you aren't satisfied with each other. It just means you're confident and connected enough to admit to each other that adding another person into the mix would make great sex awesome.
Still, don't just run into a threesome blindly because that might ruin your relationship or shape your future. To protect yourself from potential dangers, read the tips below.
Find a Suitable and Responsible Partner
The person you choose will determine your entire experience. If you make a poor pick, your night won't be as you expect, and you may also get some STDs, or that person may not know how to keep a secret.
Find someone you can trust. But here's another pro tip – not someone you know because that might make things weird later.
Another big problem straight couples face is finding girls for threesomes. Even when they go to swing bars, inexperienced couples usually don't feel relaxed enough to approach a female and ask her to join them. When they do, the man usually breaks the ice. That's a terrible move, so they get shot down and turn to online dating.
But don't make the same mistake as so many couples who join random dating sites and hope to get threesomes even though everyone else is looking for regular dates.
Do you think you'd have more luck on a site created with couples looking for female unicorns in mind than on a random hookup platform? Exactly. They are designed to fullfill the exact kind of intention without any accompanying troubles.
Ensure Everyone Feels Comfortable with Each Other
No matter where you decide to look for a person to join you, don't just jump under the sheets. Have a couple of drinks. Get to know each other. That will let everyone see if they're comfortable enough to move on.
And be honest there. Don't say yes to something that's a maybe in your mind just because you see your partner is really into that someone. Everyone must fully want to be there if you want to have a great time.
Discuss Boundaries to Eliminate Jealousy
This one is vital. V-I-T-A-L. Without boundaries, you're set to pick the wrong person, do something wrong, or you won't be able to relax. Trying to guess your partner's thoughts while you do this or that is the recipe for a bad threesome.
You should be in the flow.
And to get into the flow, you must have rules. Be honest there. If you don't feel confident enough to invite someone with larger attributes than you, say so. If you don't want your partner to kiss anyone but you, say so.
Cover everything that might make you jealous or uncomfortable. That's the only right way.
Make Sure Everyone is Having Fun
Regardless if you've been planning a threesome for months or you decided to have fun at a weekend getaway – the goal is to have fun.
Following the tips above will help because the three of you will relax together, and everyone will know all the rules.
However, don't make a common mistake and turn your ​​threesome into a free-for-all. It's a team sport. Focus on one person at a time. Cooperate. It does wonders for everyone.
Don't Expect It to Be Perfect
Yet even if you're perfectly synchronized, don't expect to have a perfect night. That doesn't mean everything will go to hell.
It just means that there might be some funny noises. Or maybe things won't get hard as quickly as usual because of the excitement. Or you'll need to communicate more than usual because there's a new person with undiscovered desires in front of you.
Don't overthink. Relax. Communicate. Have fun. And…
Check-in with Your Partner Afterwards
The purpose of couples looking females in serious relationships is to bond the couple even more. And that can't happen unless… Yes… You're about to hear the magic word behind every healthy relationship… Communicate.
When the show ends, don't run to post on Instagram about it. Don't do that at all. Please. But do check with your partner. Ask them what they liked the most and what didn't work for them that much. Also, make out. Bond. Don't forget that the 3rd person is still there, but take a couple of minutes to show affection to each other. The new person will understand.
Woah! That was fun. Just describing threesome preparation gets your blood boiling. We hope our tips will lead you to the right person to fulfill both of your fantasies.
ALSO, READ Planning A Romantic Getaway