A Quick Guide to E-Cigarette Pipe Mods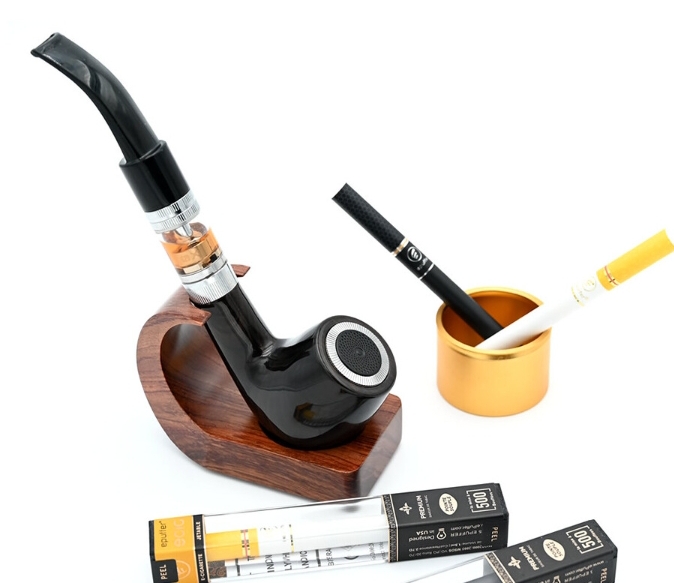 Last Updated on April 12, 2023 by Joshua Isibor
Smoking pipes date back to hundreds of years, and up until now, it's still a trend. Today's generation has upgraded to e-cigarette pipe mods rather than the normal smoking pipes.
An e-cigarette pipe mod is simply a type of vaping device that resembles a traditional tobacco pipe that's designed to an e-liquid burnt through an electronic system. An e-liquid is a liquid solution that is used in electronic cigarettes and vaporizes to create an inhalable vapor.
If you would like to understand more about these vape mods that look like pipes, you might want to scroll down and see what we have in store for you.
Major Parts of an E-Cigarette Pipe Mod
An e-cigarette pipe mod usually consists of a battery, atomizer in a tank, mouthpiece, control circuit, and a display screen. When looking for an e-pipe for sale, you must understand what you are looking for.
Furthermore, ensure that you are purchasing from a reputable seller to get the best product at the most affordable price. For instance, you can decide to purchase an e cigarette pipe mod from ePuffer or any other seller that you have confirmed is reliable.
That said, here are the major parts of an e-cigarette pipe mod in detail.
Battery – This is the power source of the e-cigarette pipe mod. Depending on your type of e-cigarette pipe mod, you will find that some batteries are removable, especially when it is a disposable e-pipe, while others are built-in. It's important for the user to always go for high-quality batteries that can handle the power requirements of the mod and work for a long period.
Atomizer – This is simply the part that heats the e-liquid and converts it into vapor. The atomizer or tank should be compatible with the mod and should produce the needed amount of vapor and flavor.
Mouthpiece – This is a part of the vape mod that is put into the mouth to inhale the vapor. It comes in various materials such as plastic and metal and can be removable or built-in.
Control circuit – The control circuit is the part that regulates the power of output and other settings such as temperature and wattage. It can be manual or electronic depending on the e-cigarette pipe mod.
Display screen – A display screen shows information such as battery life, wattage, and temperature. It is essential to note that not all vape mods will come this part. For instance, a disposable e-pipe does not have one.
How to Use an E-Cigarette Pipe Mod
Now that you know the major parts of an e-cigarette pipe mod, the next important thing to understand is how to use one. Below are the steps to follow.
Preparation – The first thing to do is to prepare your device. Make sure it is charged and has the right amount of e-liquid you want to consume. Most e-cigarette pipe mods are compatible with sub-ohm tanks or rebuildable atomizers.
Fill your tank – If your e-cigarette pipe mod happens to have a sub-ohm tank, you can go ahead and fill it with your preferred e-liquid. Ensure that you prime the coils by adding a few drops of the liquid onto the exposed cotton before use.
Adjust the setting and Inhale – How you adjust the settings will depend on your device. Sometimes you might want to change the wattage or temperature. And after you set up your device, you can go ahead and take a puff.
Conclusion
That's it. Now you know everything you need to about an e-cigarette pipe mod. The only things you need to do are find a reliable seller, check their e-pipe price list, choose what you want, and make a purchase.