8 Memorable Gifts You Can Bring to a Baby Shower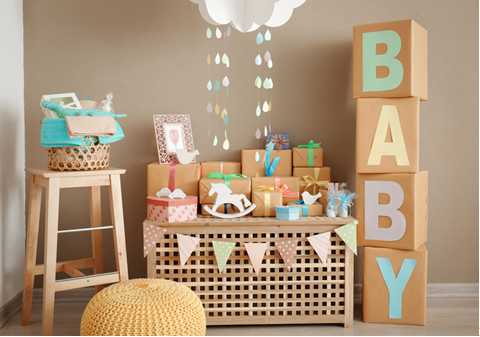 Last Updated on June 1, 2022 by Joshua Isibor
Baby showers are a fun time for everyone. Mom gets showered with presents from all her friends and family, you play games, eat great food, and get excited for a new life to come into the world.
But, for some, the most dreadful part of a baby shower is figuring out what to get mom that is both memorable and usable in her everyday life with her new child. Here are some of the most memorable gifts you can bring to a baby shower!
1. A baby blanket
Babies sleep a lot. No, seriously. Newborn babies sleep on average about 18 hours a day. As an adult, most of us sleep anywhere between six to eight hours a day, which is about one-third less than most babies. Because babies sleep so much, it's important they have something comfortable to sleep in.
A personalized baby blanket embroidered with their name or even their birthdate is a great gift to give at a baby shower that everyone will remember for years to come. Try to get one that's a bit larger than most so that the baby can grow into it. You can always get a bundle of blankets that the baby can transition from as they grow.
2.A book with a matching onesie
Books are important for babies, even when they're a newborn. There's a lot of evidence that shows reading to babies both in the womb and outside of it can help their brains develop early-on. Since reading is essential for a child's development, giving the expectant mother a children's book and a onesie to match is a unique way to encourage reading and also give them something they can use when not reading.
Babies go through a lot of clothes, thanks to uncontrolled bowel movements (that's right, we're talking about a blowout here), so having lots of onesies on hand that mom can quickly change them into will go a long way once the baby is here.
3.A diaper bag
Diaper bags are essential for expecting parents, especially if this is their first time having children. A diaper bag can hold so many things, and really does come in handy while out with the baby. A diaper bag doesn't just hold diapers. Instead, it also holds feeding supplies, wallets, extra clothes and even toys.
A good diaper bag is one that has many pockets, but it's also one that can be personalized so mom and dad don't ever forget it or can find it easily. A diaper bag is one of the best personalized baby gifts you can give an expecting parent, especially at a baby shower!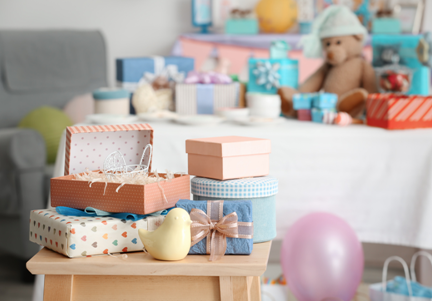 4.A blank photo album
Sometimes, the best gifts are ones where memories can be made later on. A blank photo album is a sweet and memorable gift to give at a baby shower because the expecting parents can fill it with the photos they choose! They can fill it with as many or as little photos as they'd like. But, let's face it — they're probably going to take and print out a variety of photos all within the first few months the baby's born. What parent doesn't have an album on their phone full of pictures of their baby? This way, they can print their favorites and have it all in one place for them to refer back to as their baby grows.
5.An ornament
To commemorate a baby's first Christmas, why not bring an ornament to the baby shower? While many of the guests will be focused on giving the expecting parents diapers and clothes for the baby, you can provide them with something special for the holiday season.
Of course, while the parents might decide to get something in addition to the ornament you give them, this way they'll have a couple of ornaments on the tree dedicated to the birth of their child. It's a sweet way to remind them that this child will be the start of a whole new journey in their lives.
6.A stuffed animal
What baby doesn't love a stuffed animal? Even if mom and dad don't let their newborn have the stuffed animal right away for safety reasons, it's still a nice gesture on your part to have it available for them. Whether you choose a teddy bear, a puppy or even a bunny, a stuffed animal is still a great gift idea for a baby shower.
You can even use it to bring a second gift! The stuffed animal's arms or tail can hold a gift box that contains the other gift. With such a unique approach, your gift will be memorable not just because it's from you but also because of your delivery. Order a personalized baby stuffed animal that goes with the nursery theme or will match the baby's personality.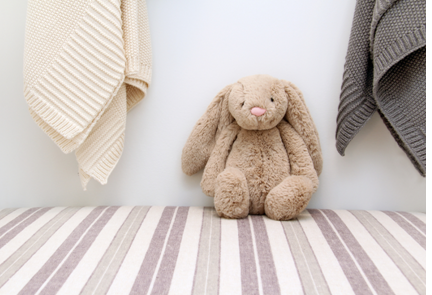 7.A throw pillow
As the expecting parents decorate the nursery, mom will probably want a throw pillow to lounge against while feeding, rocking or even sleeping with the baby. No matter whether they're putting in a rocking chair or a loveseat, a throw pillow with the baby's name or birth year on it will make for a memorable baby shower gift for sure.
Choose colors that go with the planned nursery, and make sure to find one with images or lettering that matches the feel of what the expecting parents are going for in the space.
8.A wall canvas
Welcome the new bundle of joy into the world with a fun wall canvas that mom and dad can hang on one of the nursery walls. Even if you aren't able to put their birthdate on it, you can still make it fun and personal in other ways. Choose animals or design themes that match with their nursery, include the city they're born in or any other fun personal detail that will make the wall canvas stand out.
ALSO, READ How to Choose the Right Stroller for Your Baby? 7 Top Things to Think Of